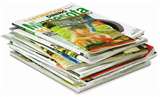 I have a love/hate relationships with magazines. I love to subscribe to them, love to get them in my mailbox, love to flip through them when I first get them. But then…. I don't read through them completely, and so I end up putting them in a magazine rack in my den. You know, to read more thoroughly later on. First I had one magazine holder, then I had to get a second one. So, you can imagine how many magazines I have sitting around here. Some of them go back two years, gasp!

I've found through the years that as I've aged, I've changed the kind of magazines I read. I guess we get to be more like our mothers the older we get!
I don't tend to pay for most of the magazine subscriptions that I have, so I guess that is good. I do pay for one or two, but the majority of them I get through point programs that I do online. I get several from MyCokeRewards (since Tim drinks so much Coke Zero, we have a lot of codes from Coke Zero 2 liter bottles and cases)! I also get one of Tim's golf magazines through e-rewards.
Here's some of the ones that I have gotten in the last year, or are currently getting. Several of them are running out and I'm debating about renewing the subscription. I think I'm going to let Taste of Home go, although I do like it, but I'm trying to cook with less processed food products and also low-sodium, and that magazine is not strong in those areas.
Some of the magazines I get are:
Southern Living (Amazon deal)
Everyday Food (points)
Taste of Home (letting expire)
Good Housekeeping (points)
Redbook (points)
Better Homes & Garden (points)
Ladies Home Journal (points)
Everyday with Rachael Ray ($10 sub, but letting expire)
So, how about you… do you read magazines? Do you buy them at the store or subscribe? Do you read them and toss or recycle them quickly, or let them pile up? What's your favorite magazine? Leave me a comment and let me know!