Weekly boring update, take sixteen! How many times do you have to do something before it becomes a habit? I am not doing any other posts, but at least I'm keeping these up regularly! 🙂
Glad That… We got a little rain over the weekend. We got small showers on Friday, Saturday and Sunday. Not the gully-washers they had predicted, but good soft rain instead. Good for my grass and good for all the flowers I planted Saturday morning:
Purslane in two baskets, for the sunny part of my backyard: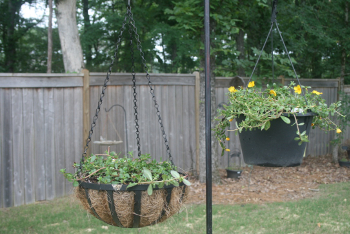 Moss Rose for my window boxes along the back of the house. I'll post a picture (hopefully) in a couple of weeks of them actually blooming! They are one of my favorite things to plant, I do a bunch every spring: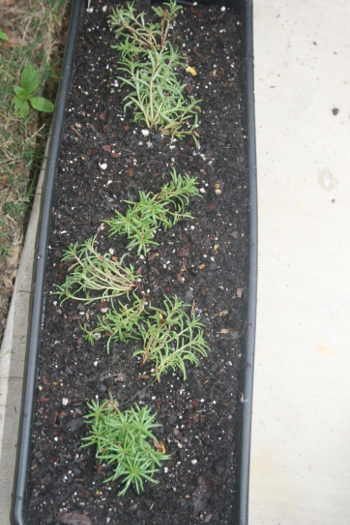 A pretty light purple wave petunia in my upturned fleur-de-lis (aka Saints) pot, hopefully a similar color to the clematis: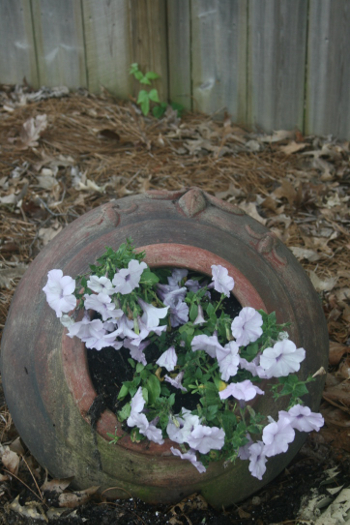 Lastly, probably the only time my basil will look good and healthy. I have an annual habit of killing every single basil I plant. Doesn't matter the location, the pot, the plant, the sun, the shade, the water. I kill them all quickly!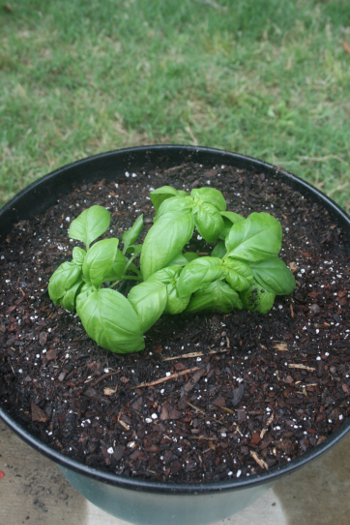 Sad That… My Bible study is over for the summer. While I think I'm going to enjoy the break, I am going to miss all my buddies from my small group. We reconvene in August.
Book I'm reading: – Still reading "A Spy's Devotion" by Melanie Dickerson, my Prime book loan for the month of April. Finished that one and picked the next one, but didn't even get 5 pages read when I got a notice from the library that one I had been on the wait list for AGES for was available. So I downloaded and started "All The Light We Cannot See" by Anthony Doerr. Again, I'm not happy with my library website's new system, I can't download in Kindle format, so I have to use Tim's Kindle fire and open it in the OneClickDigital app. Sigh. I prefer reading on my Kindle, but I'm very happy that he is willing to loan me his Kindle and let me read. He's not reading these days since he plays golf almost every day, so he's ok with me confiscating his device for two weeks (or so I keep telling myself!) 😀
Things we ate: Monday, I made Crockpot Chicken Santa Fe, one of my oldest recipes but one we still enjoy. It doesn't look pretty (let's face it, most stuff coming out of a crockpot looks icky) and is pink once you combine the salsa and cream cheese, but we love it! I eat mine over brown rice and Tim eats his just over tortilla chips, like a chunky nachos. Tuesday, I got Tim to grill out a flank steak and a piece of salmon for me. Baked sweet potatoes and salad on the side. Wednesday, I had something on the menu, but decided to clean out the fridge instead, so leftovers. 😀 Thursday, I made the croisssant french toast casserole again and we had eggs and grits with it. Friday, I made a sausage ragu to go over pappardelle pasta, rolls, and a big salad. Saturday, Tim took me out to eat Chinese and Sunday we ate leftovers.
Here's the sausage ragu and then my yummy chinese food!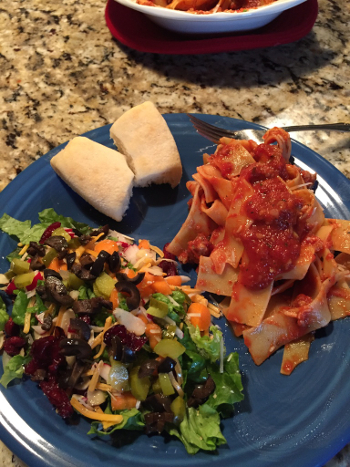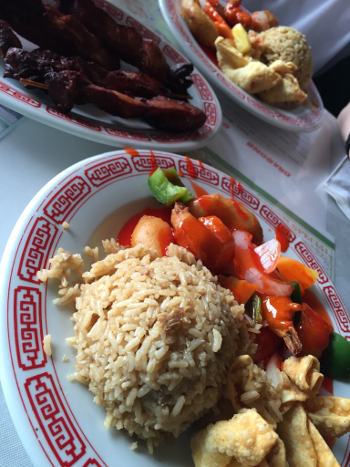 TV and Movies: – Nothing too spectacular here, regular shows during the week and a couple of old movies on the DVR on the weekend. It was rainy one day and we were in a movie mood one night, so we re-watched Bourne Legacy and Avengers: Age of Ultron. I think Tim might have watched Mad Max:Fury Road, but I'm not sure!
A Happy for Me!! – Tim finished his latest project for me, wanna see?! 😀
Here's a hint!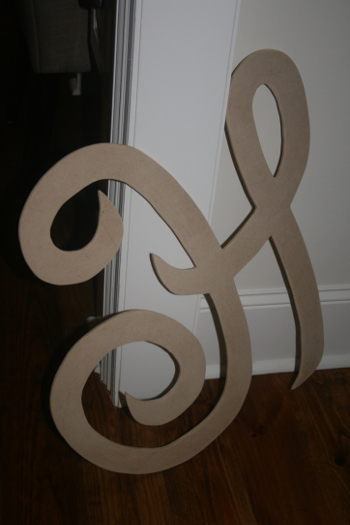 Tim hand drew and cut out letter H's for my front door! He painted them and helped me do bows and here's the finished product!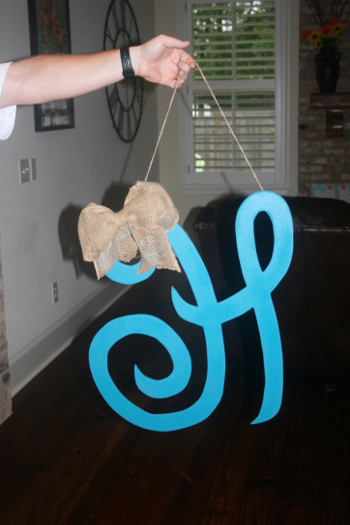 And hanging on my front door, I LOVE them!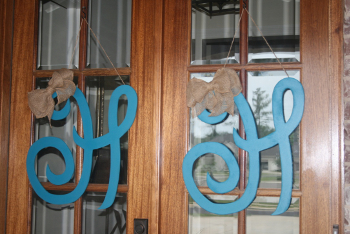 A Happy for Tim – I spent a couple of hours on Saturday trying something for Tim. Normally on Saturdays, I get in the kitchen and bake something to take to our Sunday School group. This week, I tried for the first time to make sausage/egg/cheese sandwiches for Tim for the freezer. I've been buying him boxes of storebought ones to put in the microwave on Saturday mornings. He normally has a 8 AM tee time at the golf course and usually is out the door by about 7:15. The boxed ones are easy, just 90 seconds in the microwave and he can eat it on the way. He *had* been buying them every Saturday morning at the clubhouse, and I finally asked him how much they were. Not much, he said, five bucks. For one sandwich, I asked?! Yes. So, I started buying them at the store, they work out to about 1.25 each, big savings. These homemade ones should work out cheaper, although I didn't do the math (bought canned biscuits, a roll of sausage, eggs, etc). I put him 8 biscuits and 2 bagels in the freezer, but it took a while to get it all together. Not sure I'll do it that often, it might be worth the 1.25 to me to buy them at the store, hahaha! We'll see how they taste and how they hold up. I hope I wrapped them enough in the freezer!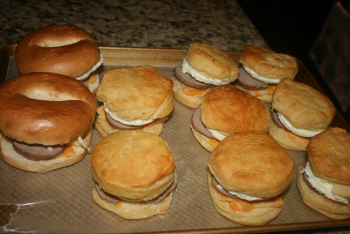 Random Thought du Jour: There are certain household chores I don't like to do. Among them are "spring cleaning" type chores such as cleaning windows, cleaning out the fridge and cleaning the oven. I read a tip a few weeks ago and finally got around to trying it for the oven. Now, mind you, I have always had a self-clean oven, but I have never ONCE done a self cleaning cycle on the oven. For whatever reason, I'm a bit scared of it, plus most of the year, I don't want it to heat up the kitchen. Anyway, that's another question of the day. Here's the tip I read – try using a Magic Eraser to clean the glass part of the oven door. Mine was fairly spattered up because I've been baking bacon in the oven for a while now and mine was pretty greasy. The Magic Eraser worked great, and I even swiped a couple of times on the ceramic part of the oven, the dark grey of the oven itself, not sure what the material is! I was glad to find that tip. So, here's a question – do you clean your oven often? And also, what household chore, (seasonal, not regular) do you like or dislike?
Hope everyone is having a great day!