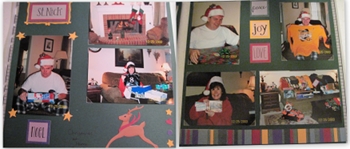 I've decided one thing for sure lately - all adhesives are not created equally.
I started scrapbooking several years ago, heck, maybe even 9 or 10 years ago. I have so many supplies accumulated that I could probably open a small store with my "stash". After taking an extremely long break from scrapping, probably 3 or 4 years, I decided to give it another go this summer. Most of my paper is in good shape, although some of it is bent or torn on the edges from the way it was stored. And a few pieces that were left out are sort of faded from the sunlight or exposure or something. The most glaring, and the scariest thing, is that a lot of my adhesives are no longer sticky! That's bad news. Not good for the pages I had already created — you know, the ones that I used those adhesives on! I guess things will start falling off my pages because the adhesive is no longer adhering.
Anyway, several things have changed since I stopped scrapping. For one, all of the local scrapbook stores have closed. But to counteract that, the two chains stores that I have locally, Michaels and Hobby Lobby, both have increased their scrapbook supply sections. I'm trying really hard NOT to buy anything else. After all, part of my goal is to use some of what I have bought in the past. I guess I have some kind of hard-wire error - because half the fun to me is browsing, buying and having so many of the cute papers and embellishments. It's a sickness of some sort, I guess!
I really wish I had stockpiled one thing from several years ago - a nice Christmas album! I have just finished (finally), my Disney album and need to order a cute Disney themed album to put my pages in. I'm working on my first Christmas album, and I know years ago, I had seen several cute albums on the market. Now, I can no longer find them, either at the chain stores or online. Bummer. I'm really hoping that the closer we get to the Christmas season that I can find a cute one. I'm afraid the scrapbooking product market has suffered in this economy as well, and I might not can find what I want, or what I had seen in years past.
OK, just some scrapbook-related ramblings. Of absolutely no interest to those of you who do not scrapbook, sorry about that. I'll try to blog about something more relevant in the future