I'm still playing catch-up. Just posted two entries trying to catch up somewhat from everything going on in July. I'll attempt to do that here for the first nine days of August!
Well, July 31st was a blue moon - second full moon of the month. I decided I wanted to play with my camera, so I got out the tripod (after a half hour of searching, Tim finally found it for me… something we had not had occasion to use since we moved and even though I knew where we kept it in the old house, I had no idea what closet or space it got shoved into here at the new house, LOL!). I won't post any pictures here, as I posted a couple on Facebook. I was pleased with how they came out

I worked on my china cabinet in early August. I ordered some plastic display stands and some felt dividers for the china I wanted to display in a big ole stack (I know, you're not supposed to do that, but I wanted to get it all in there and not have to store half of it again). It took me a while to unpack it all, but thankfully, several years back, I had unpacked it all, washed it and rewrapped it in tissue paper and bubble wrap (when my dad originally packed it up for me in big barrels, he just used newspaper and it all needed washing). Here's my cabinet now: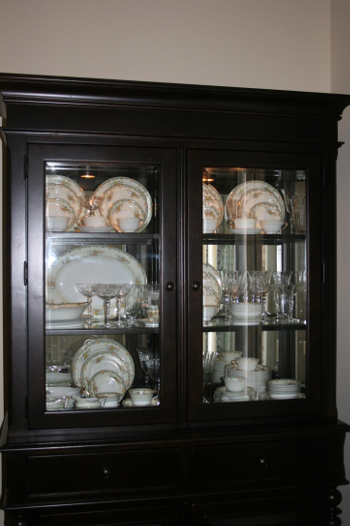 I also have been working on a spot on my granite. I discovered the Saturday that Mark and Amanda came that I had a large discolored spot on my granite by the stove, where I store my olive oil dispenser and salt cellar. Tim said the oil had leaked and discolored the stone, so I did some research online. Tried a few home remedies, but nothing worked, so I ordered some stone oil stain remover from Amazon (a duPont product). Here's a test area, that I tried first: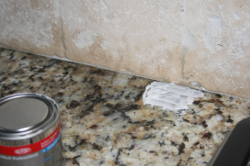 It came out looking a bit better, so now I have much larger area covered in the paste, where it must sit for at least 72 hours. The picture doesn't show how bad the stain looks in real life, because the flash lit up the discolored spot. Trust me, I'm not happy that I've already ruined my granite
Tim is back to playing more golf, although it's as hot as blue blazes. Today, the forecast high is 104 degrees, with a heat index of 115 predicted. Yikes. He stayed home one night and we watched the second Hobbit movie, the Desolation of Smaug. We also started re-watching all of the Star Wars movies. This girl is more than ready for The Force Awakens to come out in December! We watched the original ones first, the ones I know so well that I can quote most every line of dialogue.

We are nearly through; we finished Attack of the Clones last night and started Revenge of the Sith, although it may take the rest of the week to finish it

We also watched the last Hobbit movie, Battle of the Five Armies, this past weekend and I was a little sad to see those movies end. I love me some Lord of the Rings!
Our new Sam's Club opened in Madison last week! We went on Free Preview night, along with nearly everyone else in town! I had some items on my list, and we got those, and were able to use the self-checkout area, which is really nice. I'm not a normal Sam's shopper, in that I don't fill up a flat bed cart or big shopping cart. Most of the time, I get 10-15 items and it's nice to be able to grab the scanner wand in the self checkout, scan my items and skee-daddle!
I got a haircut last week, then ran errands to Kroger and Walmart one afternoon. I got a bunch of food to fix to take to a couple at church. The wife had tonsil surgery and I wanted to take her some juice (she's on clear liquids for 10-14 days) and take her husband and son something to eat. I thought a lot of people would do dinner stuff like lasagna, chicken spaghetti or pulled pork, so I decided to take Gail's idea and do a breakfast casserole and some refrigerator fruit. I made all of that one afternoon late, and got up and took over to their house before 7 AM, so they could have breakfast.
We went to dinner at one of our neighbor's house last weekend and had fish tacos, black beans, and rice. I made a chocolate skillet cookie and Tim had made salsa earlier in the day, so we took both of those. After eating and visiting a while, we walked down to the cul-de-sac and went to the block party that the younger crowd with small kids were having. They had all grilled out burgers and hot dogs for the kids, and they had a big blow-up slide and all the kids were in their swim suits having a blast! We visited a long time, till nearly 10 PM and got to meet a few more new neighbors. We still have so many people we have not yet met. We just don't see a lot of them out, some of them work a lot of crazy hours, we assume, and some of them have yard crews to do their yard work so we never see them outside. I'm still hoping we can meet more people soon.
Here's Tim making his salsa earlier in the day before the parties:
After church yesterday, we met Suzanne for a long lunch at Broad Street Bakery. Suzanne and I had a turkey and brie panini and Tim had the Reuben. Good food, and we got to catch up with Suzanne. She closes on her new house at the end of this month and is very excited!
This week looks to be equally busy - especially at the end. More dinners and a birthday party. Hopefully I won't fall too far behind again on my blog (famous last words!)

And tada- all caught up!