Or any meme for that matter! They used to be all the rage out in BlogLand, but they appear to be very few left. And of the ones I have found for Monday or any other day, there are always questions that don't apply to me, or else I would be answering the same thing every.single.time. So I guess I'll stick with regular blogging and see how that pans out

Speaking of blogging, I'm coming up on my TEN YEAR anniversary of my blog. Hard to believe, but when I go back in my archives, I started in February of 2005. Good golly Miss Molly, where did the time go? I've taken a lot of breaks, but find it's a great way to keep up with what is going on with us, so I keep coming back.
Ok, back to the original topic, today is Monday. We are zipping through January, hard to believe it's already almost half way through the month. Today is a grey, bleak day. It rained some yesterday and quite a bit last night, but had mostly ended this morning. Tim had to work last night, for about 3 or so hours until the wee hours of the morning. He started a new fitness challenge at work, to log steps walked with a pedometer, so he wanted to go walking at lunch. Yippee! First time he's walked with me in at least a year, maybe two. I showed him the route I had mapped out in the new subdivision, and we had a nice long walk during his lunch hour today. That makes me all kinds of happy

I've got some ham and bean soup in the crockpot today. I tasted the beans a while ago and they were still hard as a rock. I guess I've added too much salt, got old beans from the bin at Whole Foods or something, because I soaked them all night long and threw them in the crockpot this morning. I guess we'll eat leftovers if the soup doesn't turn out.
We had a busy weekend. We went to Greenwood for the funeral for Don's mom Margaret on Saturday. It was nice to see Trent, Grayson and Henry though, since we missed seeing them at New Years. Just a really sad occasion though
We stayed to eat and visit, but the church ladies ran out of food, so we stopped at Sonic and picked up fast food on the way home. After we got home, I made a loaf of cranberry bread to take to Sunday School. Sunday was busy with Sunday School, church and going to Kroger afterwards. After that, I cooked lunch (pepperoni crescents, really easy and so not healthy) and then Tim took a long nap and watched the NFL playoff games. I cooked supper, thereby breaking my rule that I don't like cooking on Sundays
Currently weather: as stated, grey and bleak
Currently reading: Rachel by Jill Eileen Smith
Currently watching on TV: the new Agent Carter … I need to watch Downtown, I'm already two weeks behind, but don't seem to have much time lately for catching up on the DVR
Currently Cooking: ham and bean soup today, potato soup later in the week, winging a couple of days
Week Ahead: have to take Suzanne to the airport, get my hair cut, make a run to Sam's for food for the family get-together we are hosting this Saturday, take Tim's suit to the dry cleaners and a few more errands. I'd much rather stay home, but these things have to get done!
And a photo from the weekend, I made a new recipe Friday night for a skillet chocolate chip cookie cooked in a cast iron skillet. It was DELICIOUS!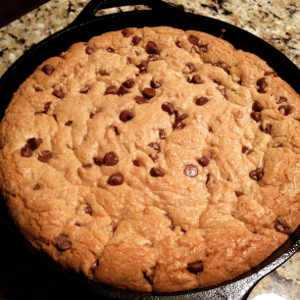 More next time, hope everyone is having a great day!