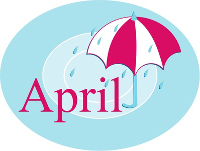 Well, I apparently didn't do very well in March, blogging only once. And now I've blinked or something and the long month of March is over and April has begun.
I don't really have anything to blog about. Must be why I went so long without putting up a post of any kind. Let's see, a few of the high points of March:
* I had a dentist appointment. Still sliding by with no problems, just a cleaning and an appointment to come back in 6 months.
* We had a little bit of company - Tim's buddy Tony came with his mom, as they had an appointment in Memphis and wanted to stay here to put them a bit closer (still quite a drive, but shorter for them). I fixed supper for everyone (lasagna, texas toast, salad). They got up and left before 4:30 AM, so they didn't get the traditional breakfast at our little B&B

The good news is that we got a report a bit later that the appointment went well, and there was no sign of the cancer in Ms Ina's eye that the other eye doctor reportedly found, which is why they sent her to a specialist in Memphis
* I attended a bridal shower for Brittany and David at Tim's parents church. We went early and I helped set up a bit, although Amanda did a very neat movie theme and did the brunt of the decorating. I do better being told, put this there, sit that there, mix this up just like this, etc. I'm not a party planner or decorator by any stretch of the imagination :). Anyway, it's hard to believe that a month from today, Brittany will be getting married. When Tim and I got married, she was still a baby in diapers! I've always told Tim that I always felt so blessed that his nieces and nephews never knew a time when there wasn't an Aunt Stacy with Uncle Tim. My nieces and nephews were all grown up when Tim and I got married, so they've had to get used to him as teenagers and young adults.
* We went and helped a lady in our Sunday School group with some handy-man and electronics stuff at her house (well, obviously Tim did all the work, I just visited and played with her dog!). She's a recent widow, having lost her husband in January. The more I read my Bible on a daily basis, the more I realize how important it is that God compels us to help the widows and orphans

* I went once with Tim and walked 18 holes at his golf course. Got a lot of steps on my FitBit that day! I won't go when it gets so oppressively hot, but I try to go once or twice a year in the spring or fall when the temps and humidity are more bearable
* Tim took me not once but TWICE to my favorite Chinese restaurant! We came home with leftovers both times, which makes Stacy a very happy camper

* I got my hair cut and setup an appointment for a few days before Brittany's wedding, so that timing worked out well

* Gail came and we got to go shopping, which is our THANG

Also met David, Elizabeth and Suzanne at Majestic Burger for supper that night - Gail and I split my favorite, the grilled mahi-mahi burger. This time we tried the greek fries, which I was just slightly disappointed in. They were basically their regular fries with some greek seasoning barely sprinkled on. I was hoping for feta or something on them!
* I read 7 books in the month of March, I'm ahead of schedule on my reading plan at GoodReads. I might revise it later in the year. Books I completed in March: Firewall by DiAnn Mills, Miracle at the Higher Grounds Cafe by Max Lucado, The Frontiersman's Daughter by Laura Frantz, Scum of All Fears (Squeaky Clean Mysteries #5) by Christy Barritt, Claudia, wife of Pontius Pilate by Diana Wallis Taylor, Dark Justice by Brandilynn Collins, and Against the Tide by Elizabeth Camden. I enjoyed each of them!
* We are mostly watching our regular tv shows. Seems like we might have seen one or more movies, the only one coming to mind right now is one I recorded off tv, Million Dollar Arm, a Disney movie with Jon Hamm.
* I'm trying to walk a bit more, now that the time has changed and mostly because it's warming up a bit. I do enjoy walking in our new subdivision, but it is hard sometimes to walk by myself, the motivation is never there. I'm not walking every day, but a few days is better then the none I was doing over the winter

We have a semi-busy April coming up, with a particularly busy weekend this Easter weekend. We are going to attend Suzanne's re-affirmation ceremony at her Episcopal church Saturday night, then get up early for our regular sunrise service at our church Easter Sunday morning. Then we'll head down to the family get-together we go to every year for Easter. We have Tim's dad's birthday in April, as well as a crawfish boil to go to. The farmer's market near our new house opens up late in the month so I'm hoping to go check that out.
Hope all is well out there in blog-land!