Let's see, the second half of January is proving to be about as busy as the first part

We've had three funerals so far this month… I think I mentioned in the previous post about losing both Tim's cousin's husband (Perry) and my brother-in law Don's mother Margaret. And now we've gone to one for Bobby, a guy from our Sunday School group at church. Been a tough year so far…
We had our annual homeowners meeting for the new subdivision on the 14th. The dues keep going up every year, things are not being done the way the residents want, since the builders/developers are the only ones on the board and make all the decisions and decide how the money is spent that is collected from each and every homeowner. It was very eye-opening and we learned… a LOT! Apparently, they say now that the dues will hold steady for at least a year or two, and within the next year or so, when the last houses are built and sold in this subdivision, the developers will turn over the board to the actual people who live here. Sheesh.
We had a family get-together at our house on the 17th, for Tim's dad's side of the family. Two of Mitchell's siblings didn't make it, Uncle Hilton and Aunt Annie Myrle, and we hated not seeing them. Tim's parents, brother Terry, Emi, Lazarus, Brittany and David came, (Mark and family didn't make it), Aunt Judy, Candy, her daughter Brooke and her two kids (Peyton and Aubrey), Jan and Steven and their boys (Justin and his girlfriend Keily and Turner), and Pat and Carl and their kids (Megan, Emily and Tyler) all got to come though, so it was great! We hadn't seen everyone in a while and it was great catching up and visiting with everyone

Mitchell and his sister Judy who did come to the get-together: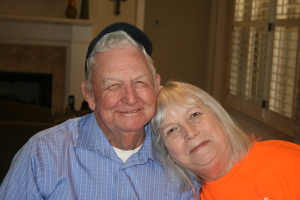 After everyone left, I cleaned up a bit, then Kathryn and Jeremy dropped off Katelyn and Sam for us to hang out with while they attended a party. We had such a great time! We pulled out a bunch of puzzles and sat at the island and played with them for hours! We did s'mores in the fireplace (note to self: Even if Katelyn and Sam SAY they want more than one s'more, they won't eat but one, LOL!) and generally had a great time

I shoved the camera in Tim's hand and asked nicely for him to take a photo with me and the kids, since, in looking back through iPhoto, there are very very VERY few pictures of me:

Now I know why, I really don't take very good pictures, but at least this one is tolerable, LOL!

OK, let's see…. Tim is in another spate of working at night on the weekends. So far in January, he's had to work three Sunday nights (starting at 11 PM) and one Saturday. One of those Sunday nights, he didn't get to bed until 4:30 AM, which really messes up his sleep and work schedule for several days after that.
We had a funeral visitation for Bobby from church last Friday night. After that, we went to a fairly new Chinese restaurant (we had been once before and Tim loved it, I liked it ok) named Fortune and had dinner. Tim got spicy Mongolian beef and I had sauteed shrimp (first time I've ever had shrimp with the heads on). It was cold that night so we got a huge bowl of egg drop soup. It was delicious

We finally saw "Unbroken" at the theater this past Saturday. I had read the book over the Christmas/New Years holiday and knew that it was going to be hard for me to watch. It was actually easier than I thought to watch, still hard, but it helped that it was sort of broken up between his earlier times and Olympic running with all the war stuff. Tim wants to go see "American Sniper" next, and I know I will not be able to go see it. First, I have a rule about not watching R-rated movies (which no one seems to understand and accept, although Tim tolerates it from me), I don't like to put that garbage or violence or language or sex or whatever into my brain and life. Even though we've heard great things about the movie, I just can't do it
Poor Tim!
Let's see… I made a loaf of monkey bread and took to Sunday School this past Sunday. I'm trying to bake and take something every 2-3 weeks. Everything so far has been sweet. One of the guys in our group keeps saying he is going to bring sausage and biscuits, so I don't want to "steal his thunder" and bring that. I need some ideas of other stuff to take and make (I've done cranberry bread and monkey bread so far). It can't be like a hot casserole, since we do things out of order, we go to church first and then Sunday School, so I have to carry the food into the sanctuary (another class meets in our room while we are in church service). Anyway, really enjoying our Sunday School group, as well as the sermon series we are having at church (Still on "First Things First").
This week has been fairly busy as well. Tim worked Sunday night, then had to get up early Monday morning and go to the doctor. He got a good report though, so that really helped. He was really expecting his blood pressure to be up again this year and the doctor to prescribe him medicine, but it was good and he came out without new pills

I cleaned house all day Monday and made a new recipe for crockpot potato soup. Tuesday, I did a lot of laundry and more cleaning, and our neighbor Bob came over and brought me a beautiful daffodil (we had taken him some homemade soup Monday night, and he apparently really enjoyed it, LOL!). Late Tuesday, Gail came to the house in time for supper. I made turkey piccata, roasted veggies, tried roasting radishes (Success!), mashed potatoes and a new recipe for a crockpot cherry cobbler. It was all really good! Wednesday, Gail and I got up and went shopping all day - two different Home Goods, TJ Maxx, Sam's, Target, Walmart along with lunch at Chick-Fil-A. We came home and met Elizabeth, and Tim who had gone to play golf, and we all ate some of the leftovers in our fridge. Elizabeth stayed and visited a while and Gail spent the night and left early Thursday morning. Tim got up at 5:20 for the first meeting of the big men's Bible study at church, called Band of Brothers. He really enjoyed it! Me, I'm such a light sleeper that I had a hard time going back to sleep, so I wasn't fond of getting woken up so early
Photo from this week, the daffodil our new neighbor brought over, it's already drooping and starting to look withered - any tips on keeping daffodils inside in a pot? I hate to kill the beautiful thing with my horrible black thumb that I have with plants like this! LOL!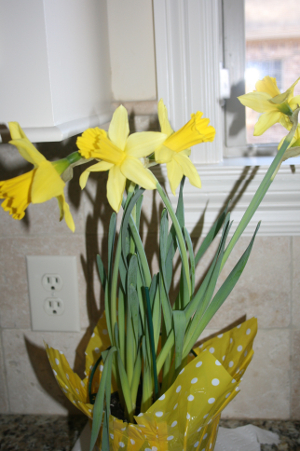 We're having unseasonably warm weather across the middle part of this week. High's in the 60's for a couple of days, and right now, it's 73 degrees and sunny. I imagine Tim will play golf again today! He'll start getting spring fever soon and once the time changes in early March, he'll be playing most every day of the week!
Got a busy weekend coming up - we'll go food shopping Friday night for the Super Bowl party we are having Sunday. Zack is coming to play golf with Tim on Saturday and then stay this weekend (his girlfriend Kelli Grace and her family are camping at a park nearby). Then, we'll have most of Tim's family and Tony here on Sunday. Can't wait! I don't care a whit about either team, in fact, I dislike both teams pretty much (Seattle Seahawks vs New England Patriots). So it will be nice to visit and not worry about the outcome of the game, LOL!
Hope everyone is having a great day!