Yes, I know it's been almost a month since Memorial Day. 🙂
I had thought Tim would play golf on his long 3 day weekend, but he surprised me a few days before and offered for us to go away for a short weekend trip. We haven't been to the coast and New Orleans in a while, so he picked that. I had picked Dallas, as I want to continue our tour of presidential libraries and had thought we could hit both Bush libraries on a long weekend. We'll have to save that one for another time. Tim absolutely loves to go to the National World War II Museum in New Orleans. We've been 3 or 4 times, but not in several years, so he picked that. And it's a good time to go, Memorial Day weekend 🙂
We booked a room for two nights in New Orleans, but drove down Saturday morning late to the MS Gulf Coast. We had eaten years ago at a restaurant we loved called Shaggy's. Come to find out, there's now several of them (3 or 4, I think!). Years ago, we apparently went to the original one that they built after Hurricane Katrina, down in Pass Christian. This time, we picked the one on the beach in Biloxi (so we actually drove right by the Shaggy's in Gulfport, which is across Beach Boulevard, in order to eat *on* the beach!). We had a late lunch and probably the best food of our trip. We didn't make great choices in New Orleans, so this was my pick for food on our short trip. We were late getting there, so of course, we were both starving! Tim ordered an appetizer, fried crawfish tails with remoulade sauce, and of course, we scarfed them all down! By the time we ate those and I had finished my salad, I was stuffed! I had the crab cakes and Tim had the catch of the day, which was redfish. I tasted his and it was equally as good as mine, if not better.
Tim at Shaggy's: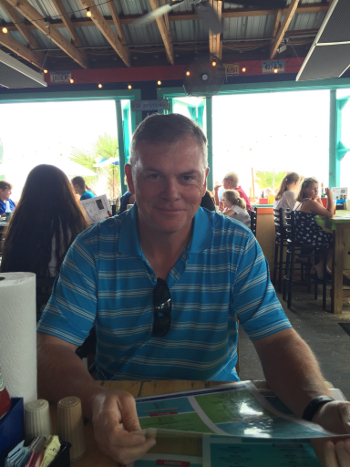 And the reason we drove out of the way to go to this one, the view from our seats: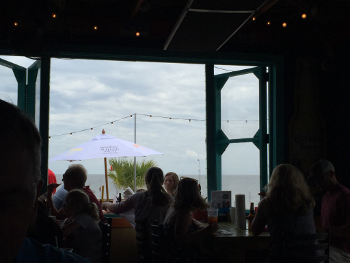 After we ate, we walked on the beach for quite a while. We ran by the outlet malls in Gulfport on the way out, but I found I was way too full to look at and try on clothes!
Tim at the beach after we ate our late lunch: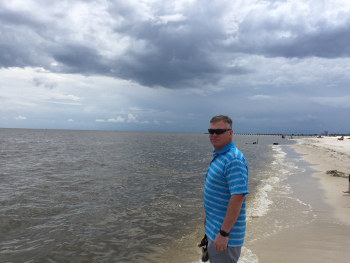 So, we set out down the highway and went on to New Orleans. Crossing the bridge over Lake Pontchartrain: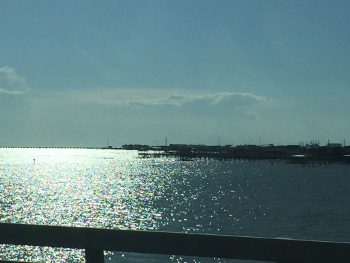 We checked into our hotel, the Hyatt Regency, and got cleaned up, then headed out into New Orleans. I was NOT hungry, but Tim was, and he wandered around until something grabbed his attention, which in this case was Bubba Gump. Chain restaurants, that's what he picks in a foodie town! We were not hungry, so we split an entree and a dessert. I'd like to say they were great, but they were just ok. We split shrimp and grits and then a chocolate chip skillet cookie for dessert. Tim commented as we were eating that he prefers my shrimp & grits and skillet cookie to theirs 🙂
Wandering around the French Quarter, dodging the trolleys. I love the trolley!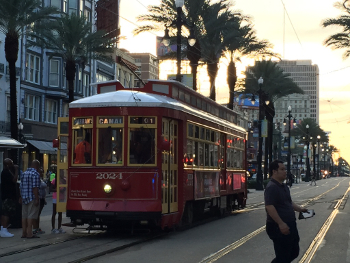 Bubba Gump shrimp & grits we split: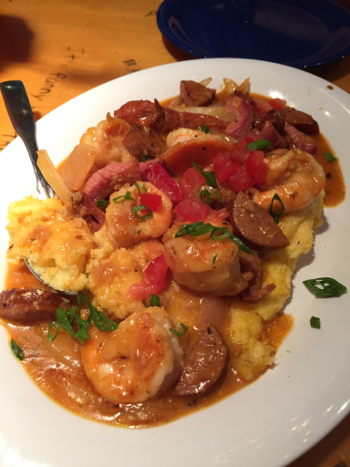 And dessert at Bubba Gump, chocolate chip cookie skillet with ice cream: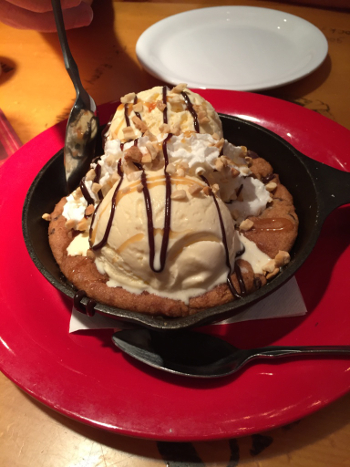 Sunday morning, we went downstairs and contemplated having the big breakfast buffet in the hotel, but opted for the Starbucks instead. We both had coffee and breakfast sandwiches. We headed out on a nice walk to the World War II museum, where we spent most of the day.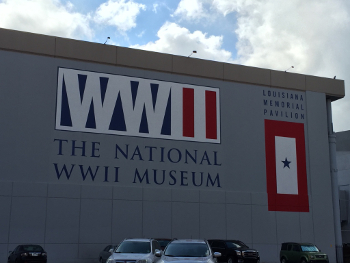 Luckily, we had bought tickets online, since the Will Call line only had 3-4 people in it, and the main ticket line snaked all the way through their barriers! First up, we watched the Tom Hanks narrated 4D movie, "Beyond All Boundaries". Tim chose "Road to Berlin" first, which is the war in Europe. Then we did "The Road to Tokyo" about the war in the Pacific. There were several new things since we had been, and another building under construction. The New Orleans Marine Corp band was there in the Boeing Freedom Center playing around lunchtime. We had a great time going through the whole museum and checking everything out. We're both such history buffs that this is right up our alley.
Selfie in front of the Higgins Boat: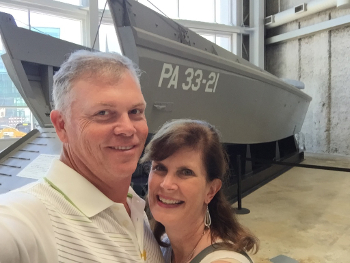 I will say, I had a great time except for one thing – Tim walked us up to the top of the Boeing Freedom Center, to the catwalk overlooking the planes. I got a serious case of vertigo and had trouble, since the walkway was fairly open. He took some pictures, thank goodness, as it was all I could do not to hyperventilate and feel like I was going to pitch forward and fall over the railing. Ugh.
Tim's photo from the catwalk: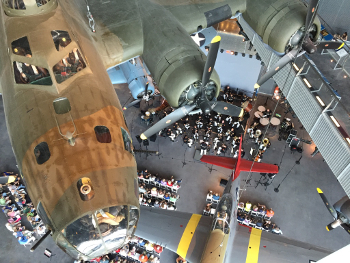 We stopped early afternoon and had lunch at one of the restaurants at the Museum, The American Sector. We had really good food there, Tim had a burger and I had an orzo with grilled chicken dish.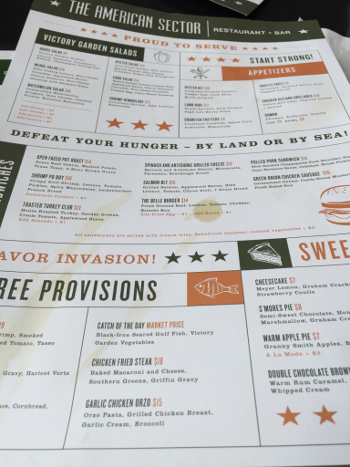 Tim's cheeseburger: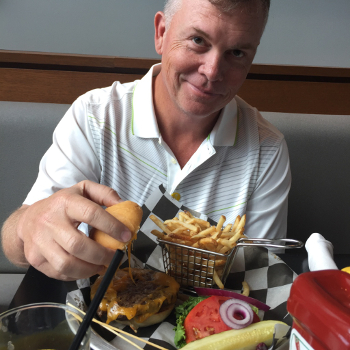 And my delicious orzo with grilled chicken and roasted broccoli: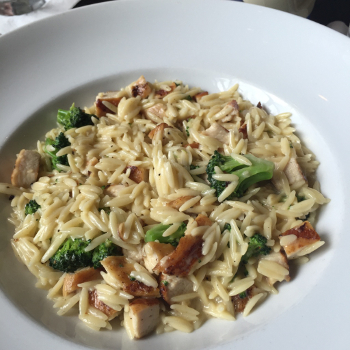 After the museum, we walked around New Orleans a bit more, then headed back to the hotel to clean up and rest a bit. We had a snack, watched some tv, then laced up my walking shoes again and went back out. We took the trolley down into the Garden District and rode it until dark. By the time we were walking back to the hotel, it was too late for me to eat, and honestly, I wasn't hungry! Tim was, however, so I let him pick. He picked a local pizzeria near our hotel, which was fabulous. I had one slice of his pizza and it was delicious!
Cute menu on cardboard at Reginelli's Pizzeria: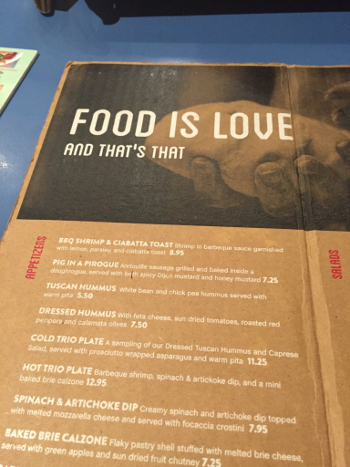 Ultimate pizza for Tim (NO green peppers for me, ick!):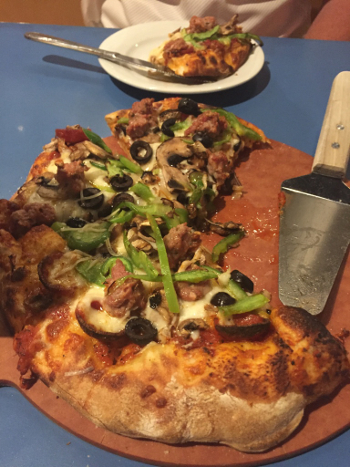 Monday morning, we had to do one last thing before we left, which we always have to do while in New Orleans. We walked down to Cafe du Monde and had beignets and coffee. Nothing else quite like it!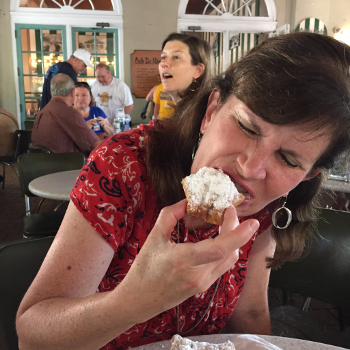 We stopped in front of the cathedral to take a selfie, but had a nice lady offer to take our photo. I bet we have at least 6 or 8 of these through the years, but I always want to take one in Jackson Square!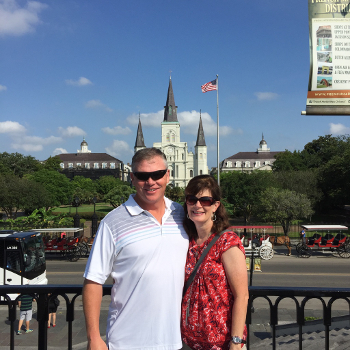 We checked out of the hotel and headed home. Once we got back, it was a trip to the grocery store for me, then laundry. Tim, of course, headed straight to the golf course! Lucky for him, we have a big vacation planned later in the summer that is nothing but golf! Needless to say, he's looking forward to it a LOT more than I am 🙂