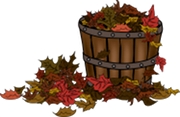 Let's see, time to do another little catch-up post…
September, thankfully, has now come and gone, and it's October! One of my most favorite months of the year, if not THE favorite. I'm ready for fall! It's supposed to cool off a bit this weekend and one night is predicted to be in the low 50's. I'm ready!
Last weekend was fairly busy. We went to see Katelyn and Sam (and their cousins) play soccer. We picked up my dad about 8:30 AM and drove out to Clinton to their soccer fields. Katelyn played first, followed by her twin cousins, Keaton and Logan, and then Sam played at 11. Well, Sam's game was not really full blown soccer, but they were out there having fun and trying to kick the ball and score. Sam seems to enjoy the sidelines, drinking his Gatorade and spitting on the field the most! Like most 5 year old boys, I assume. I took a bunch of pictures of all the soccer players, but haven't transferred them yet, hopefully soon! Afterwards, we all packed up (about 20 or more of us) and went to the Blue Rooster for burgers. Tim and I have been wanting to go to the Blue Rooster in Flora, not realizing they had one out in Clinton. It was really good. Gail and Don tried the vegetarian burgers and said they were good, I might get that next time. I had a good old fashioned beef burger, built my own, with sauteed mushrooms and swiss cheese. After lunch, we took my dad back to his assisted living place, and after we swung back by the house, Tim and Don left to go play golf at Lake Caroline. Gail and I decided to go shopping. We went to Target for a while (I got a new fall purse, burgundy or claret, whatever they call the color these days), and some things for Halloween. We also went by Sam's Club for a few things. After playing, the guys wanted to meet at Dickies for supper. Neither Gail nor I were very hungry, so we mostly entertained the guys while they ate ribs.
Sunday was equally busy. We went to church (really good service, we're in the Exponential series, a study of Ephesians) and then home to change. We picked up my dad again and headed to Tim's parents house. The kitchen is almost completely done (everything but the oven), and it looks fantastic! Linda cooked a great lunch (pork roast, rice and gravy, sweet potatoes, green beans, rolls and banana pudding for dessert) and we got to eat at the new kitchen table. I should have taken pictures, but didn't. After lunch, we visited a few hours before heading home. After dropping off my dad, Tim and I went home to eat leftovers (Mr. Chen's from Friday night, a full weekend of overeating!) and watch Sunday night football.
Monday, Tim was ready to start back with P90X. He's doing his best to talk me into doing it with him. I'm not much into exercise, especially of the extreme variety. But, he said he'd start back walking some with me, so I agreed to give it a shot. I won't be able to do it every day like he will, as this week was fairly free, but next week I get back to having to take my dad somewhere at least once a week. I am not overdoing it, in fact, I can barely do a lot of the exercises. Day 1 was an hour of pushups, pullups and situps. For the push-ups, I did 1 or 2, where the fanatics and Tim did 25 or 30. But, I am trying and that's better than sitting my butt on the couch. I need to be better with my portions, the eating and snacking are what really help me pack on the pounds, I think.
Speaking of… I've been doing a lot of cooking this week, LOL! I've pulled out my crockpot for the week. Monday night, the Saints played the Dolphins (both undefeated going into the game, and we're now 4-0!!!), and so I made a french dip all day in the crockpot, along with homemade buns, roasted broccoli and oven sweet potato fries. Tuesday, I made Tim biscuits and we had breakfast food. Wednesday, I made red beans and rice in the crockpot. Today, I'm going to try a new recipe I pinned on Pinterest for a crockpot beef and broccoli. I had also planned to make a pizza, but that may get pushed back a few days. The fridge is full of leftovers, plus food I bought at Kroger yesterday. I was pleasantly surprised to find that several items in the bulk bins at Kroger were marked half off. I certainly hope they are not getting rid of them, or phasing them out. Our Whole Foods across town has not opened yet, not sure how many months before it will be open, not to mention, it's more than 10 miles down there. Anyway, I didn't need a lot from the bulk bins, but since walnuts, dried cherries, steel cut oats and roasted pumpkin seeds were marked 50% off, I loaded up!

Most all of our TV shows are back on now, which is great. Tim cut our cable package the other day. We were in a promotion that gave us all of the premium movie channels and it expired on October 1. So he cut those and cut back on our tier. Not going to save us a lot of money, but every little bit helps. Plus, with football and all the new shows back on, we definitely don't need the movie channels. We can stream movies from Amazon or Apple TV, or I can get most new releases at the library (just have to request and wait for them, most of the time). We still have several movies on the DVR that I recorded from the pay channels while we had them, that we still have not watched. I'm mostly about football these days, along with NCIS, Person of Interest, Elementary, Blue Bloods, and a couple of new ones, especially The Blacklist. Tim loves that one

I'm not reading nearly as much as I was earlier in the year. I'm reading my Bible and Jesus Calling Devotional every day, and plugging along with books. Current book I'm reading is one I actually bought, Double Cross by James David Jordan (read the first one, Forsaken, and loved it, so I knew that if I found the second one free or discounted, I would get it. Paid 2.99 and it's worth every penny so far!). I will go over 100 in the next few weeks, well surpassing the goal I set. I might even beat my previous high goal of 104, if I can keep it up

OK, nothing exciting, but I guess that mostly catches me up, LOL!