Apparently, I never posted here about my new little happy that I got in the mail! I shared a photo on Facebook, but thought I better record it here and do a little background (well, for me, it's a lotta background, since I'm so verbose!)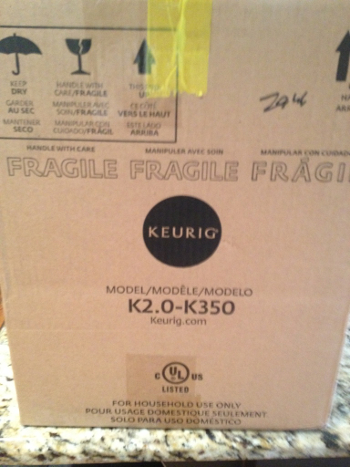 I went the first 38 or 40 years of my life and never touched coffee. In fact, growing up, I couldn't stand the smell of coffee. My parents made it every morning and drank about 2 cups each. But it seemed strong and smelled burnt and just icky.

When I met Tim, I learned quickly that he really loves coffee. He's not a modern coffee kind of guy, though. He's not really into going to Starbucks or a local coffee chain we have called Cups, although he will go and drink coffee. But, he just goes for a plain black coffee. Nothing flavored or sweet or fancy. He just likes plain, black coffee.
Me, I tried coffee for the first time on vacation, I think when we went to San Antonio about 10 or 12 years ago. We had a coffee maker in the room and they had some flavored coffee. One morning, Tim offered to make me a cup and add cream and sugar to it, if I would just try it. I did, and learned to "tolerate" coffee, as long as it had enough stuff added so that it didn't really taste like coffee! He has fondly, over the years, referred to my coffee as "hot chocolate".

I always tell people mine has to be a light khaki color and not really taste like coffee. LOL!
Anyway, forward a few years and the Tassimo product first came on the market. I saw one at Bed, Bath and Beyond and thought, well, that's something new, but I don't know if it will go over. Why would people buy little pods of coffee to make one cup when they could brew a whole pot? Notice that I had a similar thought about the iPod and digital music when Apple first introduced the first iPod and iTunes. I'm like, why would you pay for music online and listen on a specific device, when there's the radio and CD's available to buy in every store on the block. Sensing a theme here? I'm not particularly forward thinking or immediately accepting of new things

So, the Tassimo did ok, and then Keurig came out with their brewers. We stayed at a Hard Rock hotel (got there late and they had given our room away, but upgraded us to a suite with an ocean view, a wrap around deck, a huge shower and a Keurig in the suite) and I tried the Keurig for the first time and exhausted their supply of flavored coffees supplied to the hotel room. I thought then, wow, I'd like to get one of these for me, to have my flavored coffees occasionally.
But then, as now, I realized that a Keurig is just NOT practical for us. With Tim working from home and loving coffee, he drinks a LOT. He's actually drinking less than he did a few years ago. He's down from drinking 12 cups a day to *just* 8 cups a day. We normally only make him 4 or 6 cups on the weekend. But, from a cost and practicality stand point, that's not very cheap when you are buying that many K-cups a day. The beans he likes we get at Sam's in a big bag and that bag (about 12 bucks) lasts at least a month. So, nowhere near the cost factor.
So, I just never got a Keurig. In our old house, I didn't have room for it. I kept my little cheap Mr. Coffee coffeemaker from Walmart out in the garage and just brought it inside once or twice a week (at most) to make me some flavored coffee. I was banned from using "his" coffeemaker, since he swears he can taste the flavored coffee afterwards, even though it was cleaned. So, I just kept my old one hidden and he used his daily.
Then we moved last year, into a bigger house with a nice big open kitchen and quite a bit more counter space. I still stored my old coffeepot out in the garage and brought it in once or twice a week (mostly in the winter when it was cold and I didn't want hot tea).
And, then there's the Viggle part. I had Viggle points accumulating. I had been using Viggle (an app that you use to check into tv shows) for a while and was cashing the points in for gift cards. I have earned $110 in Amazon gift cards, $55 in iTunes gift cards and a $15 Chili's e-gift certificate. I was perfectly happy saving my Viggle points for gift cards. Except I went about 6 months and never saw a single gift card offered. Apparently, they wanted you to spend your points on products. So, in looking through the product catalog, I didn't see anything I really wanted. Except the Keurig. So, by June, I had saved enough points and ordered the Keurig. I think it's a model that has been discontinued. It's the Keurig 2.0, but the 350 model. I see the 300, 400 and even 500 model in stores, but never the 350. The 2.0 system means it has the carafe, so we can do a small pot of 4 cups for Tim. But the catch with the 2.0 system and Keurig is that it only uses Keurig branded K-cups. Which means I can't buy a refillable cup and use all the ground coffee I have here. And I can't use local brands like Community Coffee or other coffees that don't partner with Keurig. I love to order stuff from Amazon and they have lots of fun assortments of K-cups. However, half of them don't have the Keurig brand on them, which means they won't work in this 2.0 system.
However, it was free, it's here and I'm thoroughly enjoying it! I've been slowly buying K-cups. Decaf, as that's all I can handle these days. I learned when I woke up with tinnitus 5 years ago that caffeine does a number on my tinnitus, so I eliminated caffeine from my diet. No tea, unless its decaf (so, usually herbal), no Coke, just Sprite or a root beer that doesn't have caffeine. I've quickly learned that there are not a lot of choices in Keurig branded K-cups that are decaf. I've only found one or two that are flavored.
But STILL. It was free, I didn't even have to pay shipping and handling. It's here, it's out on my counter, and I've been enjoying the bee-jeebers out of it! I've had decaf or hot tea every day, using one of my new K-Cups. I'm adding a lot of cream and sugar, as is what I have to do, and I'm already noticing the pounds are starting to slide back on. Nothing like drinking your calories! But. I'm loving my new little happy!

Here's the assortment of K-cups and K-carafe pods that came with the brewer: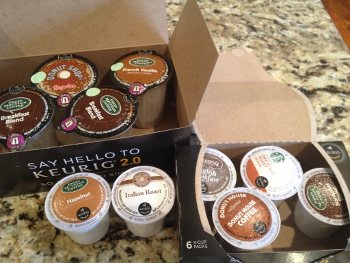 And my first cup of coffee that I brewed in my favorite little red cup: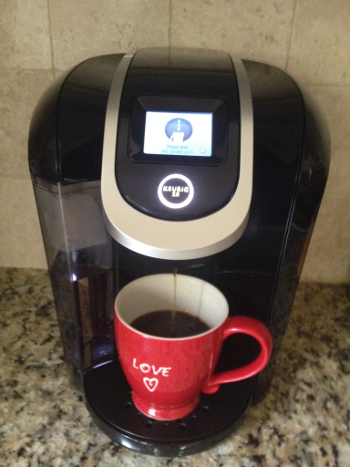 It's the little things in life that make me happy!