More random tidbits that have been rolling around in my brain… you've been warned! It's a scary place in there, inside my head

1) Had taco salad for lunch today. Every time I eat taco salad, I think to myself, why don't I make this more often? I make tacos fairly often for Tim and every time, I would much rather have taco salad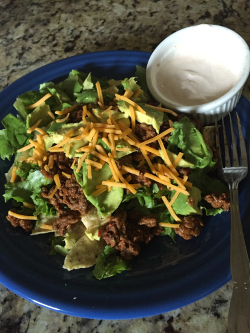 2) Tim played in the Club Championship last weekend. Was gone most all day both Saturday and Sunday, so I got to spend a lot of time by myself.

Ran to Walmart and Sam's on Saturday, and went to church and Sunday School by myself on Sunday. Was really touched, and so enjoyed, one song during the music worship ("Once and For All" by Lauren Daigle), recorded some of it for Tim to hear, and took this snapshot from the video: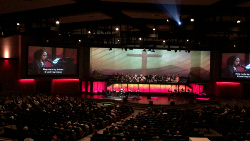 3) Some fall tv started back this week. Watching Dancing with the Stars, with their usual assortment of poor, older (elderly) stars who can't dance and must have bad knees. Bless their heart, I always feel so badly for them. Enjoyed Blindspot. Tim and I both think it's a lot like Blacklist in overall premise and how they will carry out each episode. Really like the girl, she was in the Thor movies. On the fence so far with Minority Report (really liked the movie) and Limitless (never saw that movie). Have a few more new ones to go.
4) My washer is now giving an error on most every load I try to put in there. Tim has tried fixing it and no luck. So since I really can't wash clothes (can't get a cycle to complete, the error comes up and it won't go on, so have to stop it, try to drain or spin the water out and then just dry stuff that was not really washed, unless you count 6 or 8 minutes of a 45 minute cycle)… we ordered a part. Standard shipping had it coming in 10-12 days and I didn't want to wait that long. Had it overnighted — to the tune of nearly $50 in shipping charges! Yikes. Sometimes you have to pay for convenience. Tim will hopefully install it later tonight after he gets home from playing golf. Hopefully this will fix it, although Tim said there are two other parts that could be causing the problem.
5) Went to Fresh Market last week on Tuesday to get some meat. They have vegetarian-fed chicken breasts for 2.99 a pound and ground chuck for 2.99 a pound on Tuesdays. I try to go every couple of months and get a few packs of each for the freezer. I got me some sushi for my lunch that day: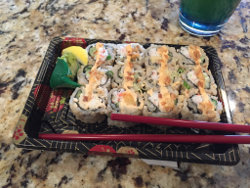 6) Today is the first day of fall. I'm ready! Still feels like summer around here, with highs in the low 90's or upper 80's. I put my fall wreaths up on the front doors. Haven't pulled out much fall decor, but it won't be long. Ready to start making soups and stews and hearty foods. And football food too, although it looks like a bad season for us, football wise. The Saints have lost both games and so far, don't look like they can win at all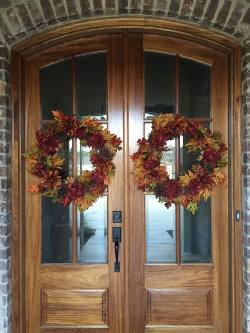 7) Germanfest is this weekend - looking forward to stopping by the Catholic church after our church service this coming Sunday and getting brats and sauerkraut.

Fond memories of my dad, he went with us faithfully for many years. He loved driving up to come eat the food, hang out and even buy a t-shirt!
8 ) Current book: third in the Crittendon series, Sky Zone, by Creston Mapes. Not sure what I will read next. Have a few downloaded to the Kindle, so will have to pick. Going to download a few more, since we leave soon on our trip!
9) Had a doctor's appointment yesterday and dentist appointment today. Final check-up after my two surgeries this summer. Nice clean teeth, plus x-rays to boot!
10) Still really enjoying my first Bible study at church. I joined "Manna", one of the women's Bible study groups and we meet every Thursday. It's a fairly large group and we break out into smaller groups. This is my first ever time to do a Bible study and I'm sorry I didn't start one sooner at church. Really enjoying everything about it. Current book: Recovering Redemption by Matt Chandler. I am also getting to use my new dining table, that's where I do my homework: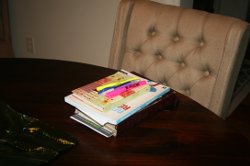 I'm still private blogging about my days (extremely detailed, too much to put out here), but thought I would throw out a few things that are running around in my brain. Oh, and I'm trying to get back into the swing of taking more pictures. Enjoying the better camera on our new phones, so here's a couple of food snapshots from the last week.
Pizza from Sam's (take and bake, they are actually pretty good, and cheap, a 16″ pepperoni is only 5.98 or maybe 6.98). I had some salad with mine:

Flank steak marinating last night for Tim: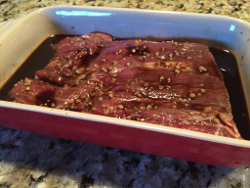 Hope everyone is having a great day! Take care