Weekly boring update, installment seventeen. Busy week around here!
Glad That… We were able to go see our nephew Zack graduate from East Central Community College. He's off to Delta State in the fall, to play golf and hopefully do really well academically. We are so very proud of him!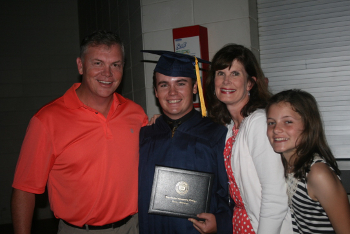 Sad That… Hmmm…???
Book I'm reading: – I finished reading my library book, "All The Light We Cannot See" by Anthony Doerr. Took a breather for a day or so and then picked up the one I had started earlier, "The Pepper in the Gumbo" by Mary Jane Hathaway.
Things we ate: Monday, we ate leftovers and worked on cleaning out the fridge. Once again, I'm very grateful to be married to a man who will actually EAT leftovers. And one that tries anything I decide to make. Very grateful! Tuesday, I had out stuff to make, and Tim saw a commercial on tv for some burger. Suddenly, he only wanted a burger. So, off to Sonic to make him happy! I went grocery shopping Wednesday and bought stuff to make more burgers, so we had some beef and some chicken burgers Wednesday night, along with grilled corn on the corn and grilled potatoes and onions (cooked the potatoes almost completely inside first). Thursday was Cinco de Mayo, so I made bean enchiladas, spanish rice and an avocado salad. Friday, we were out of town at a graduation, and ate at a steakhouse afterwards with the whole family. Tim had a steak and I had grilled shrimp. Saturday was leftovers and Sunday we went to a family dinner at my in-laws for Mother's Day.
Burger with the sides:

TV and Movies: – Regular shows like Blacklist, Blue Bloods, NCIS, etc. I rewatched Star Wars (again) and am back to Harry Potter for a bit. Tim watched a lot of NBA playoff games. We caught up on all the Supergirl shows backlogged on the DVR. We have an even larger count of Marvel Agents of Shield to get to!
A Happy for Me!! – Tim ordered some stuff for him and got me another happy! I love the Kendra Scott pink necklace he got for my birthday a year and a half ago, so he got me another Kendra Scott, this one is black mother-of-pearl and believe me, the photo doesn't do it justice!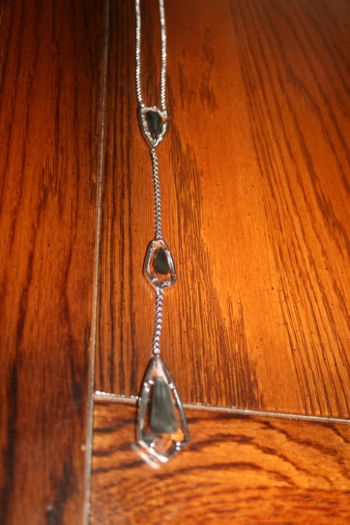 Bonus! A couple of photos from Mother's Day yesterday, first the boys with their parents then Emi and I with Linda: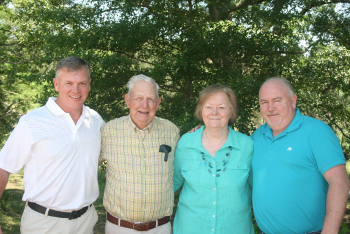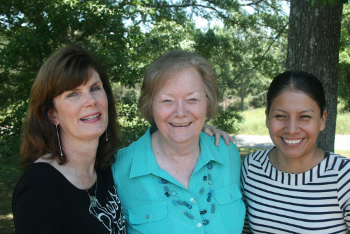 Random Thought du Jour: We've realized as we've aged, that we can't do what we did in our teens and twenties, as far as food goes. It's sad. In college, we used to order pizza at midnight and a couple of skinny girls devour a whole pizza. I never gained a pound doing that. Now, I look at a piece of pizza or cake and I gain a pound! Tim is really, REALLY good at being disciplined with food and eating. I, however, am NOT. One thing that does help me though is trying to watch my portions. I try to use smaller plates, smaller bowls, etc. And here's one thing we use all the time: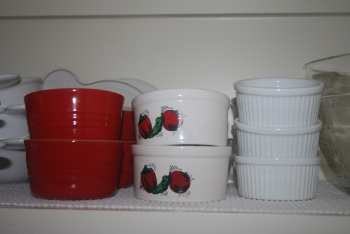 Ramekins work well for us in portioning out things like salad dressing on the side, fruit, desserts (one very small scoop of ice cream), etc. Ramekins are my friend!
Do you have any ideas or tips on eating better or healthier or something you try to do in your world? Please share, I'd love to know!
Hope everyone is having a great day!