Catching up on a few things we've been doing lately. It's gotten HOT, after a fairly mild summer. It's now hitting the mid 90's every day with heat indexes in the 100-105 range every day. That does not deter Tim from playing golf, however!
Let's see, last week turned out to be fairly busy. Gail came Tuesday evening, so she could spend the whole day with Katelyn and Sam on Wednesday. Tim and I went over to Elizabeth's on Wednesday during lunch. We brought her lunch and Tim took the battery charger, since she had called to say her car wouldn't crank. We thought we had her fixed, and headed back. Gail spent all day with the kids, and decided to stay Wednesday night too. Thursday, we ran some errands, had lunch, and went to visit Fred. We went to Corner Bakery, one of our favorites, to have lunch. I like their trio (you can pick from 3 of their side salad options or soup), and I had spring asparagus soup, caesar salad and mixed fruit. Yummy! We stopped at Freshway Produce on the way back from visiting Fred, and picked up some produce. I also found some metal door hangers like I have been wanting. Instead of opting for the letter 'H', I ended up buying a beautiful multi-colored cross.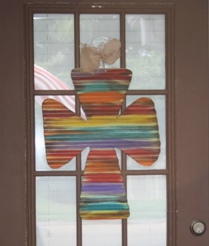 Gail and I got home and tried to hang the cross, and realized it wouldn't work on the metal door hanger I had for our front door. So, I realized I needed to go get a big suction hook. So, when Gail left heading home, I went to Walmart (should have gone to Michaels, thought about it, but decided to pick up a few other things at Walmart). I found a set in the crafts section, but when I tried one at home, it wasn't strong enough to hold the metal cross. So, Tim and I headed out Friday night, and we stopped at Michaels and got a much bigger and stronger one. We also went to Mr. Chens for supper. We splurged and got an appetizer (crab rangoon), then 3 entrees to split (to be fair, I like to get vegetables, so that always adds an additional dish). We got the mixed veggies, sesame chicken for Tim and rice noodles with shrimp to split. We had a lot of leftovers to bring home, which is always nice! We also went to the grocery in the back, since I wanted to get a new wok: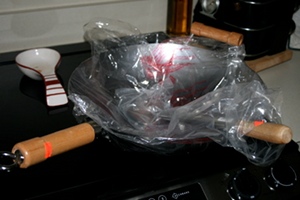 I haven't even taken it out of the wrapping yet! I like the look and feel of it, but I'm a little hesitant to use it. I've always, only, ever had a nonstick wok. This one is going to take some getting used to, I think, especially on my new smooth top stove. I'm still struggling with a few things on the new burners. Anyway, I can always go back and get a nonstick one if I don't like this one. I hope to try it in the next week or two, so an update soon

After supper, we walked down to Northern Tool to look for a new grill brush for Tim, but they were closing. So, we got in the car and were heading to Academy to look for the brush, when we came up towards Bops. Tim offered ice cream for dessert, so I was bad and took him up on his offer! We were good and just got frozen yogurt with one topping each (Tim got Snickers, I got butterfinger). Mine was in a waffle bowl, so mine was more better

At Academy, we got the grill brush and also looked at patio furniture on clearance. I found something I liked but I don't think Tim liked it as much. I guess we'll wait till next year to spend money on that. Ours is 12 years old and all but one of the chairs has a torn seat (the fabric has just given out and rotted, out in the sun). I think the grill is enough to tide us over and get us through football season. We don't tend to spend much time on the deck this time of year, or during football season. We just grill out, then hurry back in the AC to eat

Saturday, Tim had an early tee time, and got home around lunch. I made hummus (still have to work on the recipe, my seasoning needs to be better) and had that with pita bread and fruit for lunch. Tim picked him up Chick-Fil-A on the way in. After we ate, he had a long nap, and we watched a little TV, we decided to go to Ace Hardware and get Fred another grabber stick. He had mentioned to me and Gail on Thursday that he wanted another one for his front door, to get his paper he had just started getting delivered. We got that, then went to visit Fred, who promptly informed me he didn't want another grabber stick, he already had two! But, he took it, and we visited awhile. We moved furniture twice for him, he is not happy with the way his unit is laid out. I see furniture shopping in his future, from the way he was talking! After we left there, we went to Lowe's to pick up a few things, then swung through Tony's Tamales for the first time, for Tim to try their food. I opted to go home and eat more pita bread, hummus and fruit. He got the tamale dinner with chili and cheese and really enjoyed. I tasted it and would be ok with it. Next time he wants to try plain, traditional tamales.
Sunday was busy with church, swinging through Fresh Market, then Tim going to play golf. Elizabeth had more battery trouble, so Tim went to jump her off, then she came over here later Sunday to hang out, eat dinner and spend the night with us. She is busy at school, getting her room ready and getting ready to begin her new teaching career. She's very excited, and we're so happy and excited for her

OK, that mostly wraps up our mundane weekend.