Weekly boring update, take eleven…
First up – Happy Easter from the Hammons! 🙂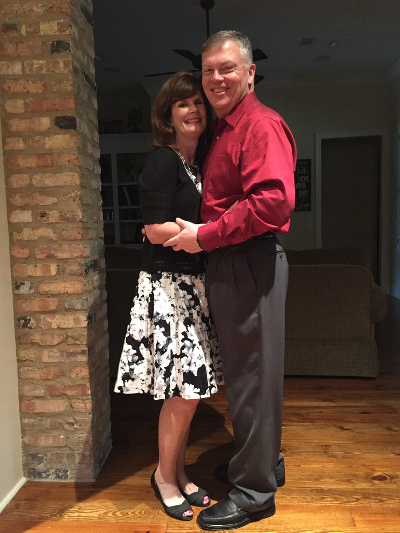 Glad that… I married a man who happens to be a very handy guy! Tim grew up in the country and learned to drive tractors, work on cars, and do a thousand other things long before I met him, so I have his parents and family to thank for that. This week, he changed the oil in one vehicle (other slated for this upcoming week) and put new spark plugs in both vehicles. He probably saved us several hundred dollars in labor fees. The cost of the parts were under 50 each and I know the spark plug job would be expensive if we had to take it to the mechanics. I'm so glad and grateful that he is so handy with everything! 🙂
Sad that… Once again, I'm not coming up with anything! Good Friday is always a reverent, very sober time for me as a Christian, as is Saturday. But come Sunday morning, it is the most joyous day of the year. He is risen, he is risen Indeed, Halleluiah! 🙂
Something that makes me happy…. We got CRAWFISH!! I love to splurge once or twice a spring and get crawfish and pig out. We never did last year, we didn't have any outdoor furniture and I don't prefer to eat them inside since they are so messy. Tim stopped Saturday at lunch, after playing golf all morning and got us 5 pounds of crawfish in Gluckstadt, along with corn, potatoes and sausage. We pigged out and ate them all and it was DELICIOUS! 😀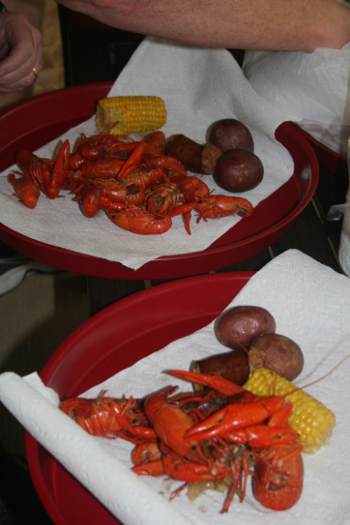 An Unexpected Happy… Tim ordered his dad's birthday present from Amazon, and himself a gadget he had been wanting. He surprised me and ordered me a pair of earrings as a happy! He's very sweet sometimes, that guy 🙂
Goofy thing that happened… Well, as if I haven't posted enough of these, but they never fail to amuse me and put a smile on my face. My little chalk artist was at it again! I came in the kitchen one morning to make his coffee and found new art: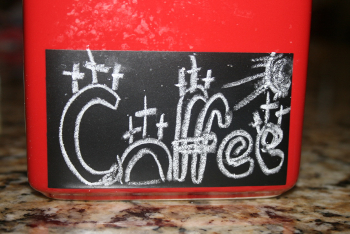 Book I'm reading: I had started one last week, an older book I had downloaded a while back and not gotten to. It's called "A Table by the Window" and is by Lawanna Blackwell. She sets most of it in fictional Tallulah, MS. Took me 9 days to read (cut me a little slack, I have been busy with other things!) I did enjoy it though, and was surprised to find that the author Blackwell was living in Baton Rouge at the time she wrote this one. Anyway, after I finished that one, it took me a bit to pick my new book. I searched through Kindle's prime loan program and found an older book that was recently re-released by Christian author Robin Lee Hatcher called "The Forgiving Hour". Downloaded that Saturday and started on it, another good book. Touches on broken families, divorce, adultery, and obviously, forgiveness.
Things we ate: Monday, I tried a new recipe for a stir fried pork and cabbage. Had steamed rice, egg rolls and crab rangoon with it. It made a ton, so we'll work on leftovers all week. Tuesday, I made homemade pizza and a big salad. Wednesday was recycled Chinese, this time with steamed dumplings and more egg rolls. I forgot to take my edamame out of the freezer, darn. Thursday was fish, roasted asparagus, sweet potatoes and salad. Friday, continuing the theme of weeks past, was Junk Food Friday – hot dogs, fries and fruit for me. Saturday, we had crawfish for lunch and leftover hotdogs for supper. Sunday, we went to a huge Easter lunch at Tim's aunt's house.
Homemade pizza: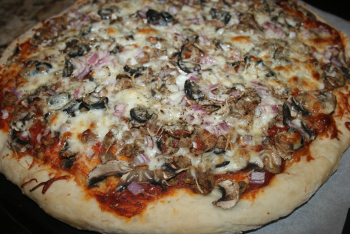 TV and Movies: Mostly just regular tv shows. I watched the original Cedar Cove movie from Hallmark. I was sad they cancelled this series, especially since we just got Hallmark back last year on our Uverse cable system. Also re-watched an old movie I like, "Devil Wears Prada". Meryl Streep is just so entertaining in that movie! Tim watched a lot of golf, since his started on Wednesday this week, match play rather than stroke play. He watched some March Madness and I watched some cooking shows. Mostly, just our regular stuff. And I was glad that Dancing with the Stars started back – a few really BAD dancers and some good ones. The deaf guy is amazing!
Around the house: Our yard is still very brown, while almost every single yard in the neighborhood is green and growing. I am too ashamed to post a picture here, since ours looks terrible. I sure hope it comes back and isn't dead or something. I'm starting to wonder, since everyone around us is as green as Ireland. We've had a lot of rain, so ours should be greening up. Sigh. I wish I had a green thumb. I do, however, have two things trying to grow in the yard. We have several near dead azalea bushes, but we have 2 that we dug up last fall and planted new ones, to see if they would do better, and one of them is blooming like crazy: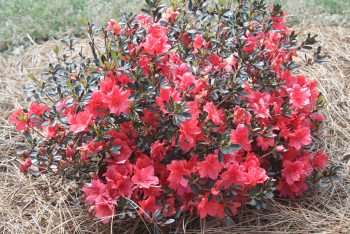 And we planted a clematis last year that never bloomed and hardly grew, but it seems to have settled in now, and is trying to grow! I've had our first little bloom. I told Tim when I came in from snapping a picture, it never bloomed and I couldn't remember what color we picked out. Apparently, it's a lavender or light purple 😀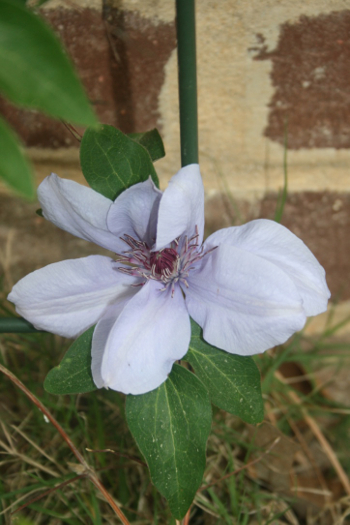 Random Thought du Jour:Which do you prefer: jelly beans or a chocolate Easter bunny in your virtual Easter basket?! 🙂 I cannot tell a lie, I could not pick. I would have to have them both!
Hope everyone is having a great day!