Weekly boring update, take thirteen… had a moderately busy week and then a really busy weekend, this year is just flying by!
Glad That… We were able to go this weekend to see Tim's dad for his 74th birthday. We had a great time visiting with family and friends 🙂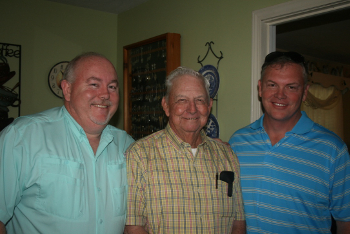 Something that makes me happy…. Tim finished my surprise! Well, I knew what it was going to be when the lights came in. I swear, I have never seen such tiny lights. They are on an adhesive strip, which he cut into sections, and wired up and stuck under the shelves in my pantry. See, when we built this house, I wanted a BIG pantry! As in, walk in, shelves on three sides, very deep, lots of floor space. But we compromised with a door pantry in the hall right off the kitchen, that had enough shelves, but it wasn't a walk-in. The builder put in the pantry and I was like, where's the light? He said, light, you want a light? Yes, I'd like to have it lighted since it's in a hall and has a door on it. So, he got the electrician to throw up a small fixture on the ceiling, over the top shelf. Well. The good news is that it was wired and "lighted", but in actuality, only the top shelf had light! Here's a really bad, blurry, before picture, I took it in the daytime and you really can't see, but I promise, only the top shelf is lit: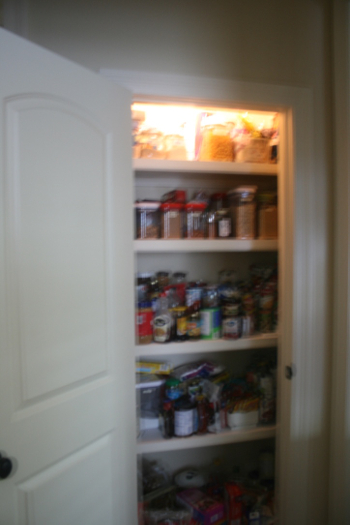 And, so one night last week, I went to bed, and apparently the lighting fairies came to my house, because the next morning, I had this!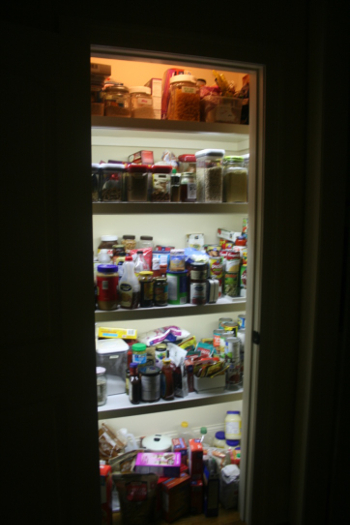 Now, the pictures don't do it justice. It's lit up, every shelf, and the floor, with these tiny hidden lights. I'm still rather amazed that a strip of stick-on LED lights that are under the lip on the front of the shelves, light up the whole shelf, front to back. Anyway, it makes me really happy and giddy and very appreciative of my very handy, thoughtful husband 🙂
Book I'm reading: – Still slowly working on an old one I had downloaded for my Kindle a while back, called "A Passion Most Pure" by Julie Lessman. I don't seem to be making very good head-way on this one. Which brings me to something that makes me really sad, bordering on mildly upset!
Something that makes me SAD! – I was so excited all week, waiting on my library's website to switch to the new version. They said it would be online sometimes between 4/4 and 4/8. The old system had been shut down so I was anxiously awaiting the new one. They started loading it on Thursday evening, apparently, because I was able to see the site and sign up. Friday, I went back to the site and was SO VERY disappointed. The selection is even less than what we had before. There's several bestsellers I was on the wait list for, that I can't even find when I search. I'm still holding out hope that they haven't gotten everything loaded or setup. The Christian fiction section is noticeably smaller (my preferred genre). And worst of all, on the old system (OverDrive), I could simply click and download books in Kindle format. I searched and looked and looked and finally found in an FAQ on the new system, that they do not support Kindle format. So. That means I can't download any library books to my primary reading device (my Kindle Paperwhite). I can, and have, downloaded the app to my ipad, but my sweet tablet is four years old and very slow, basically on its last leg. Plus, I really don't prefer that screen to read on. Sigh. I'm still grateful to have a way to use it, but boy, am I disappointed to have had such a great system, them go through an "upgrade" and now I have so much less available for me.
Things we ate: Monday, we were feeling the effects of overeating on the weekend, so we had a salad for supper! Tuesday, I got Tim to grill a bunch of meat for him (so he could have leftovers all week), and salmon for me. Wednesday, I made Chinese (fried rice, steamed dumplings, edamame). Thursday we had leftovers. Friday, he wanted to order pizza, and so we worked on that some over the weekend. Saturday, we had lunch with Don, Gail and David at Dickies after the guys finished playing golf. Sunday, we had a big family birthday lunch for my father-in-law. They had so much food, I couldn't even taste everything, there was grilled chicken, grilled sausage, ribs, hamburgers, potato salad, baked beans, veggies, rolls, banana pudding and then cake and homemade ice cream. Needless to say, we didn't eat supper Sunday night!
TV and Movies: Nothing much to report on this one. Tim watched the Masters golf tournament the last part of the week and all weekend. I tried my best to clean up the DVR and have him enough space. We did watch Blindspot and Survivor, but didn't get to Blacklist, Hawaii Five O or Blue Bloods.
Around the house: My grass is still fairly brown, but some other things are blooming!
My azaleas: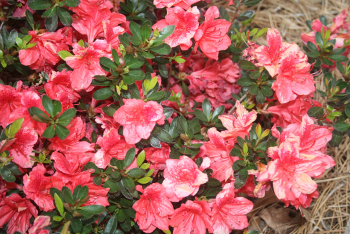 My clematis that we planted not long after we moved in and never bloomed last year, I'm so excited to see it with so many buds and blooms!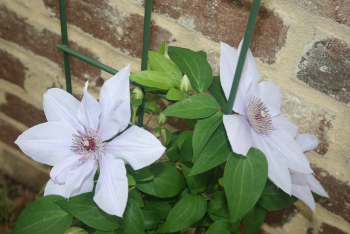 Lastly, my knockout roses in front of the house: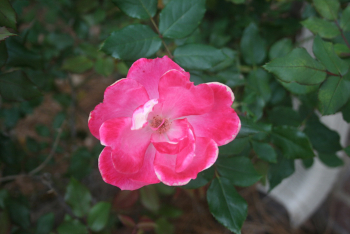 Random Thought du Jour: Can anyone explain to me why so much dust accumulates UNDER furniture? I can understand on top. But up under the middle of a big couch or big chair or big bed? How come so much dust and dust bunnies gets up under there?! Sigh 🙂
Hope everyone is having a great day!