Weekly boring update, take eight… it is getting a lot harder to come up with even boring things to chat about. I might need to switch to every other week!
Glad that… My sister Gail got to come to town and go shopping with me. I got a few new pieces of clothing, but still need a lot more, so she will have to come back again to shop more with me. My wardrobe (or lack thereof) needs a lot of help! We had fun though, and a good lunch at Panera, so a good thing 😀
We ordered the same thing at Panera (you know, great minds think alike!):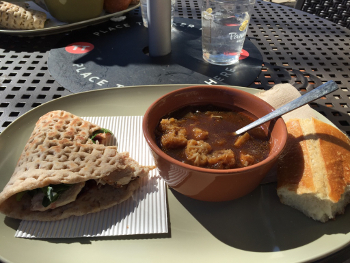 Sad that… Our most recent Bible Study ended on Thursday. We finished up the six week "Armor of God" study by Priscilla Shirer. We have this week off for Spring Break, then pick up on St. Patrick's Day with our last study of this session. I have to get my book for "Hosea" by Jennifer Rothschild at church soon.
And… there's only one more episode of Downton Abbey. Sniff sniff. (Monday morning update: I have it recorded on the DVR and have to watch it, but I don't want to, I don't want it to end!)
Something that makes me happy…. We found a new Chinese place! We discovered a little hole in the wall up in Canton that has probably been there for 25 years or more. We didn't have high hopes, but we were really surprised, everything we ordered was delicious! Also, they seem to do a better takeout business than dine-in, so that is good news for us in the future. I LOVE, LOVE, LOVE to order take-out Chinese and have leftovers for days 🙂
My shrimp with lobster sauce (I always like a brown sauce and not the white one so many restaurants here use!):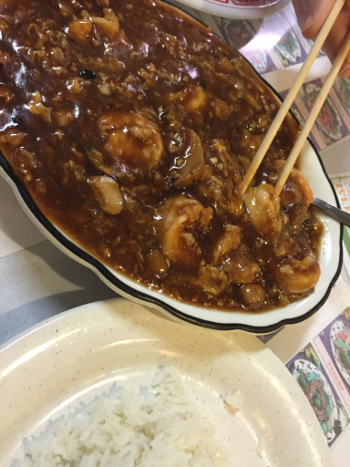 Tim's Dragon and Phoenix (which at this particular restaurant was General Tso's chicken with sesame shrimp):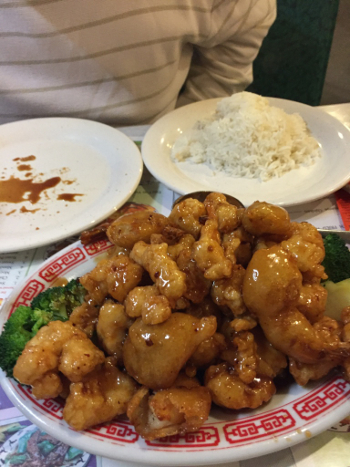 And a first for us! The ticket was written in Chinese!! Very cool 😀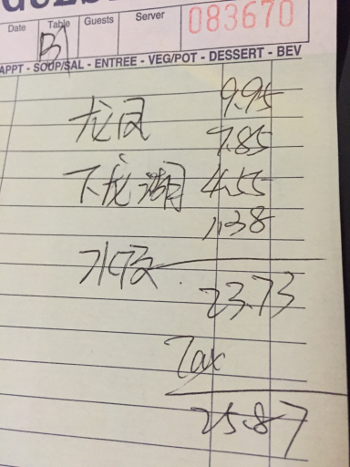 An unexpected happy… After eating out Friday night, I didn't expect to eat out again over the weekend. On Sunday after church, we went to lunch with some friends, and had a great time, so that was unexpected. And even better… on the way home, Tim treated us to this!!!: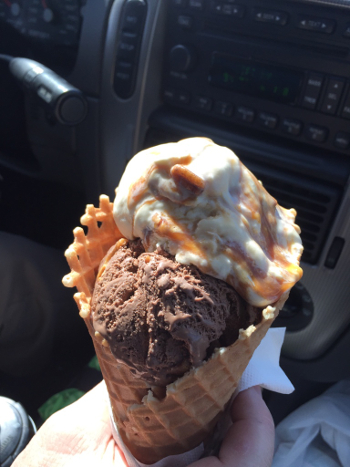 Book I'm reading: I had just downloaded a book from Amazon (my February Kindle prime loan) when I posted last week. So I had not really even started it, it's a Dan Walsh book entitled "When Night Comes". Read on that most of the week! Finished it up late Friday night and Saturday started a new one I've had in my Kindle cloud for a while, looks like tough subject matter about abuse and infidelity. Not sure yet if I'll finish it but it's called "What She Left for Me" by Tracie Peterson.
Things we ate: Our nephew Zack came to stay with us on Monday, as he had a two day golf tournament at Tim's club on Monday and Tuesday. I took chicken out to cook, but got outvoted by the two guys, who both wanted pizza. They have different tastes (Tim=supreme and Zack=Meats), so I ordered what they wanted and we pigged out when they got home with the pizza. I did *try* to be good and made me a big salad to go with my pizza. Tuesday, I made a big pot of chicken tortilla soup with the chicken I had defrosted for Monday. Wednesday, I ate out a late lunch with Gail at Panera and wasn't all that hungry. I made us an egg white omelet with ham and cheese and some fruit (Kettle chips for Tim). Thursday we ate leftovers! Friday night was date night at a new-to-use Chinese place. We got steamed dumplings, and Dragon & Phoenix (for Tim), shrimp with lobster sauce (for me), see above! It was all delicious 🙂 Saturday was more leftovers, and Sunday was lunch out, and breakfast for supper. Here's what I had most days for lunch (leftover pizza, chips and fruit, OINK OINK!!):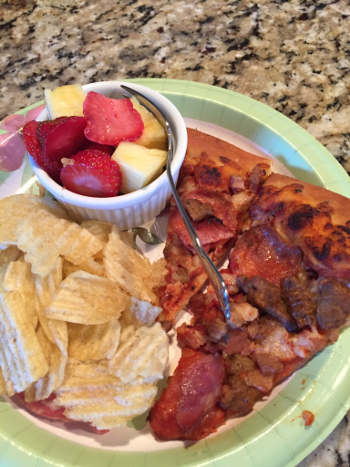 TV and Movies: Not a lot of anything to report here. Zack was here Monday and we watched a couple of episodes of Brain Games with him. Tuesday we watched BlindSpot and a couple of other normal shows. Glad that Blindspot is back and wish we were getting Blacklist too. We lost internet plus cable tv and home phone service on Wednesday and didn't get to watch anything that night. We finally watched Survivor from OnDemand on Friday night. The DVR is pretty full, and we don't seem to be making much of a dent in it! LOL! 🙂 Tim had a library book due back and was on a deadline, so we spent several evenings reading our books (one of my favorite things, it won't last much longer, I'll be a golf widow till dark most evenings). Sunday night, we watched Bridge of Spies that I got at the library.
Random Thought du Jour: I think I've *finally* made the switch from regular milk to organic milk. I resisted for so long, because of the cost. I don't know what groceries cost in the rest of the country, but here things seem expensive. Plus, we pay 7% tax on groceries here, so things add up quick. A gallon of regular, store brand skim milk is about 3.65 here, and the organic store-brand one is 7.00 a gallon. Plus tax. But, I bought organic a time or two and Tim commented on how much better it tasted, so I decided to bite the bullet and upgrade. I don't drink a lot of milk. I use almond milk in my oatmeal every morning, and have cereal on Sundays before church, and don't tend to do milk any other time. But, it's good for him and I do like cereal more now, so I guess it's worth it! 😀
Hope everyone is having a great day!