Weekly boring update, take nine…
Big Thing that Happened… – we celebrated our twentieth wedding anniversary! Big one, I love the big ones as well as the little ones like 18 and 19 🙂 I wouldn't trade one minute with Tim for anything in the whole wide world 🙂 We did absolutely nothing to celebrate! Stayed in (was pouring rain) and watched movies and ate junk food 😀
Glad that… The rain is over! It rained for three days straight (Thurs-Fri-Sat) and now, the sun is out! The time has changed (I should put that under the "SAD" category, but Tim is ecstatic, more golf for him!) and things are starting to look like spring around here.
Our lorapetalums blooming up front: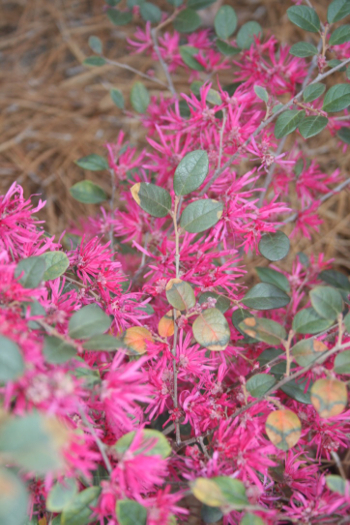 Sad that… Downton Abbey is over. For, like, forever. Sniff Sniff. At least it ended well! We had two deaths at church this week, our co-leader in our Sunday School, his mother passed away, and another lady in our class, her sister passed away unexpectedly. All very sad.
Something that makes me happy…. I'm doing well with my reading. Late in the week, I finally got around to updating Goodreads with the books I've completed in the last few weeks. My count was 17, which is a good pace for me and hopefully I can meet (60) and maybe even surpass the reading count I've set for myself this year at GoodReads. 🙂
Goofy thing that happened… I was outside, taking a picture of my shamrocks on the front door, and Tim popped his head out and startled me!!
Silly Tim: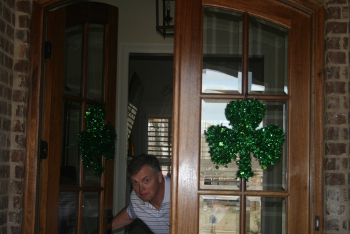 An unexpected happy… I bought it for us to share, so not all that unexpected! But I've been eyeing the "Limited Edition" blueberry mini crullers from Krispy Kreme in a bag at the grocery, so they hopped in my shopping cart (we call them buggies here, I don't think other parts of the country use that redneck term!) and came home with me. They were SO GOOD! We don't splurge on donuts often, so it was a nice happy every morning to have a mini donut with my breakfast 🙂
Book I'm reading: Monday night I finished the Tracie Peterson one I had started over the weekend, "What She Left for Me". It was actually a really good book, about forgiveness and grace and redemption, but the underlying subject matter was a bit hard (molestation, rape, abuse). It was very well written though and did not dwell heavily on those subject matters. I took a break for a day or so from reading, since it was a bit heavy and then (sadly) started on the third book in the Wings of the Nightingale series by Sarah Sundin. I've really enjoyed this series and hate to see it end. This one is called "In Perfect Time".
Things we ate: Monday we had leftover (from the freezer) smoked pork, mashed potatoes and gravy, roasted veggies and salad. Tuesday, I decided to stick to the theme of Taco Tuesdays (notice I rarely if ever stick to the Meatless Monday trend! Haha!) and we had a big taco salad with lots of homemade guacamole and chips. I had bought a 6 pack of avocadoes last week at Sam's Club and they were needing to be used, so there ya go. Wednesday was sandwich night and Thursday we worked on more leftovers (fridge is full to overflowing, I tend to go to one or more grocery stores a week and buy a LOT OF FOOD for two people!) 😀 Friday night, we celebrated our anniversary by splurging on a huge platter of nachos I made and watching movies. Saturday, we ran some errands and were starving by mid-afternoon, so we picked up burgers on the way home.
Anniversary Nachos!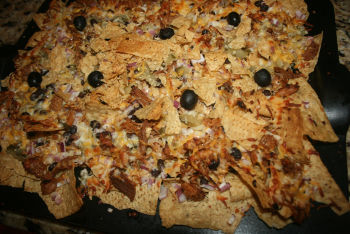 TV and Movies: Regular tv shows. Last Sunday we watched and really enjoyed Bridge of Spies. The other movies I got from the library were ones we had seen, but I was still able to talk Tim into watching all of them again. Thursday night we watched Mission Impossible: Rogue Nation (had just seen once at the theater, so I had forgotten most of it…. so it was like a whole new movie to me!) 😀 Friday night, it was a double header of Bond (Quantum of Solace and SkyFall). Saturday was Jack Reacher. Tim has nearly finished reading all the Jack Reacher books at our library in digital format (maybe 14 or 15 of the 20 Lee Child has written). We're looking forward to the new one later this year with Tom Cruise. We took those 5 movies back to the library and got 2 more for this week.
UPDATE from a previous post: I posted a few weeks ago that I really need to get a new wallet. Well, I think I found one I like, although I haven't put it to use yet. I found a cute polka dot one that has RFID protection slots for two credit cards, so I thought I'd try one of those out. I hope it works and it holds up, I don't tend to buy things like wallets very often. I want to get one that lasts for a long time! 🙂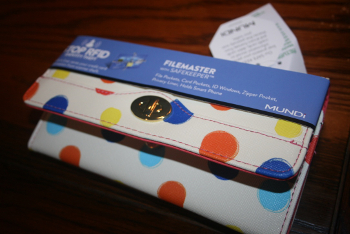 Random Thought du Jour: When I am reading a book and I run across a word or a character's name that I don't know how to pronounce, I just make up a pronunciation in my head. Then, later I often find that I was mispronouncing it. But still, I always prefer my pronunciation that I used in my head. Does that make one bit of sense? Does anyone else do that? 🙂
Hope everyone is having a great day!