Weekly boring update, take five! Nothing really exciting going on this week. Tim is having to work every weekend in February, but he took off one day of vacation during the week to go play golf when it was warm. He's starting to get antsy for the time to change and him to switch to golf mode. Which means I will turn into a golf widow for 7-8 months. Sigh.
Goofy thing that happened… We were watching this week's Elementary, and there was a character on there that is a high functioning autistic. She's interested in Sherlock and they had her in a couple of spots on the show. Tim looked at me and said, "she reminds me of you!". I'm like, you think I'm autistic? He was like, well, she's literal and routine oriented and very honest and that's you. I still can't figure out if he meant it as a compliment or a put-down. 😀
Glad that… Happy to report that I tackled my Walmart list/trip this week. We were a lot poorer when I left, but we aren't out of anything now! 🙂
Sad that… Supreme Court justice Antonin Scalia passed away over the weekend. The court had a balance between conservatives and liberals and I'm afraid that the scales are going to tip away from the conservative side. Very sad day indeed.
Book I'm reading: Finished "With Every Letter" by Sarah Sundin, very good book! Started "Blue Moon Bay" by Lisa Wingate, second in the Moses Lake series. I was only about 25% through with that one when one became available at my library's download site (I've been on the wait list for a few weeks). So I downloaded and started on that one, "Midnight on the Mississippi" by Mary Ellis. This is a new author to me, so I'm hoping that it's a good one 🙂
Things we ate: Sunday night, we had wings while watching the Super Bowl. Monday, we had tomato soup and grilled cheese, something I've been craving for a while. Tuesday I made a crockpot ravioli and a big salad. Wednesday night, from a choice of 3 items, Tim picked eggs in purgatory again (we had bacon and cheese grits with them again, any one want to guess why he picked this one?!). Thursday night, I got Tim to grill out, we had grilled salmon, grilled asparagus and wild rice. Friday night we had chili dogs and chips. Saturday we ran late to Lowe's, so rather than coming in late and fixing food, we swung thru Chick-Fil-A and got sandwiches. Yummy!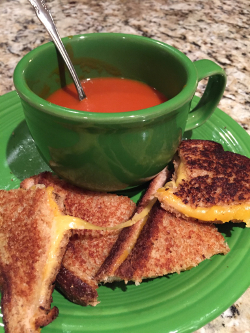 TV and Movies: I don't think we watched any movies this week! We were mostly watching regular TV shows from the DVR. I truly think the only thing we watch live all year long is the Super Bowl, and that was a struggle. Tim was constantly grabbing the remote to fast forward thru the commercials, and I was like, "I wanna watch the commercials!!!" It doesn't take long to form SOME new habits, now does it?! 🙂 DVR's have definitely changed the way we watch tv. We never watch a show live and rarely watch it on even the same night it is on. We gave up on Duck Dynasty and deleted it from the DVR. We tried a couple of episodes of Brain Games and liked it. We're nerdy that way 🙂 Kept up with our regular stuff on the DVR (NCIS x3, Limitless, Scorpion, Blacklist, Elementary, Blue Bloods, etc). Looking forward to Survivor starting back next week.
Something that makes me happy: – I came in Thursday to discover an early Valentines happy from my sweetheart!!!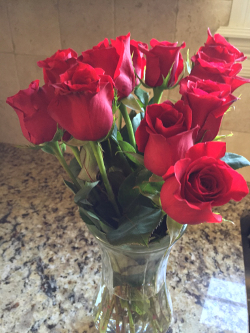 Fun Thing We Did: – It won't seem like fun to anyone else, but we went to Sam's together 🙂 Tim also went with me into HomeGoods first and we bought some new kitchen glasses for him. He *hates* stores like Home Goods, so this was a biggie for him. He does, however, like Sam's so he will go there willingly with me. We walked out with a cart full and a couple of hundred dollars poorer. I'd call that fun, but I am rather odd 🙂
Random Thought du Jour: OK, this random thought popped into my head one day. I was skimming through some of Amazon's deal of the day that they have. I kept seeing a bluetooth shower speaker. I've seen shower speakers for years, long before there was a cell phone in existence. I don't quite think I've ever understood the allure of a shower speaker. I know people sing in the shower, although I am not one of those people. And my husband was in the military so he takes very quick showers. So I guess I just don't get it. Do you have a shower speaker, have you ever had one, or do you know of anyone who has ever had one? And secondly – do you sing in the shower?! 🙂
Hope everyone is having a great day!