Weekly boring update, take seven!
Glad that… Tim finished my jewelry holder that he had been making me! He started on it a week or two ago, and we had to make a couple of trips to Lowe's and then across town to Hobby Lobby to get knobs. It looks great, and is so wonderful for holding so many of my necklaces! I have 3 jewelry drawers built into my dresser in the bedroom, I've had them for years and love them, but I have so many necklaces (I never get rid of jewelry, most of it comes back in style one way or another eventually), that I needed more room for necklaces, they were constantly getting tangled and mixed up.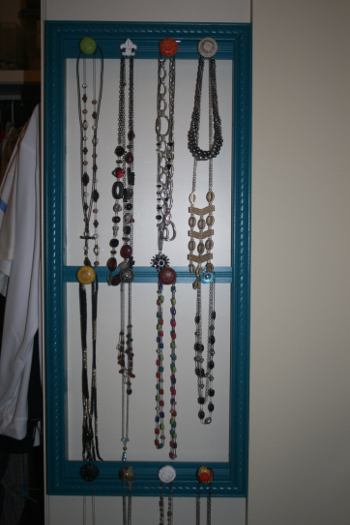 Sad that… There's only one more episode of Downton Abbey. Sniff sniff.
Something that makes me happy…. we finally got a flag bracket installed and our American flag hanging out front!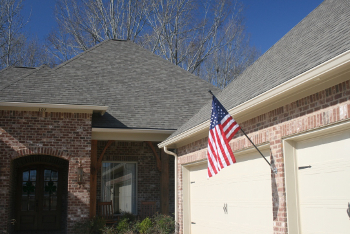 Book I'm reading: Reading "No One to Trust" by Lynette Eason. It was a great paced book about a couple in witness protection (except that the wife had no idea her husband was not who he said he was). I loved it except (mini-spoiler), it had a bad mafia boss who kept pet snakes! ::shiver:: Really enjoyed it, and then moved on to the second in the Wings of the Nightingale series by Sarah Sundin, "On Distant Shores". I read the first earlier this year and enjoyed it so much that I bought the other two in the series. These are Christian historical romances, set during WWII, about flight nurses. Finished that one Sunday and downloaded one from the library, a Dan Walsh book entitled "When Night Comes".
Things we ate: Sunday night, we grilled out before it started raining – alFresco chicken burgers (I had mine plain, no bread), mixed grill veggies (asparagus, onions and mushrooms was what I had on hand) and grilled pineapple. Monday, we were really off schedule from Tim's near all-nighter on Sunday night, so we didn't eat lunch till nearly 3 PM. By supper, what I had planned to cook didn't happen, as neither of us were really all that hungry. So Tim had leftovers and I had an egg sandwich with fruit. Tuesday, I made an old recipe, chicken crescents, and heated up some store-bought soup. Wednesday, I tried another new recipe, for a crockpot mexican enchilada style casserole. Once again, mixed reactions, Tim really liked it and I … did not. Luckily, he was happy to eat leftovers the next couple of days. I also made a new recipe for a baked oatmeal that I really liked and had several mornings for breakfast. Saturday we had a late lunch after Tim finished playing golf. I let him pick, and he picked… drumroll please!!! No surprise here, he picked Dickey's BBQ rather than anything else in town. I cooked for a friend whose mom had passed away, and kept us back a smidge, so we ate that on Sunday (maple bbq pulled chicken, coleslaw, chips, chocolate chip skillet cookie and banana bread for breakfast). I am happier on the days we eat leftovers, I am not really in much of a cooking mood these days 🙁
Grilled aspargus, onions and mushrooms in my favorite grilling basket: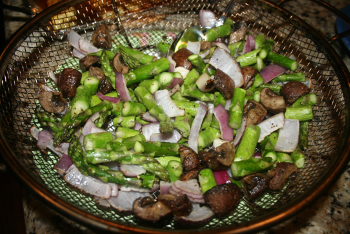 New baked oatmeal (yes, I added chocolate chips, chocolate makes everything better!):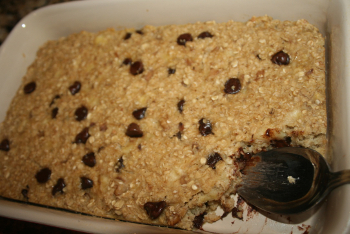 TV and Movies: Last Sunday night, we finished up the last Garage Sale mystery that I had recorded on the DVR, I think there have been 4 of those so far and we've watched them all. I'm really happy that Tim will watch some of these Hallmark mysteries with me. I like that they are clean and easy to watch, just like the cozy mysteries I like to read. Ready for them to make more! This weekend, we watched a couple more I had recorded on the DVR from free preview weekends. Blended, with Drew Barrymore and Adam Sandler, and then Last Vegas with Robert deNiro, Michael Douglas and Morgan Freeman. The rest of the week, we watched our regular shows.
Random Thought du Jour: Today is a Leap Day. I feel really sorry for people born on February 29 that only get to celebrate every four years. And I don't remember why we have an extra day every four years, I guess I need to google that and learn something new today! I'm a little sad that January and February are over. I love my two month hibernation period when it's colder, darker, wetter and I can stay inside and enjoy the solitude. Spring is just around the corner, and the time changes soon! 🙂
Hope everyone is having a great day!