December went by in the blink of an eye!
After we were both sick at Thanksgiving and I was basically down for the count the first week of December, I spiraled into a mild panic about getting everything done. But Tim was right (as usual), we got most everything done, and it all worked out okay. 🙂
Tim took off his one day early in the month and we knocked out most of the shopping. He's great about getting most of the guy gifts, and then trying to help me with all the girls. We stopped for lunch at his choice, Raising Cane's (fried chicken strips, delicious but not overly healthy, a fairly common theme for us in the month of December, LOL!) I was able to start wrapping after that, along with all of the gifts I had ordered from Amazon. The carriers (UPS, FedEx) have finally learned where we live, and we are no longer missing deliveries like we did when we first moved here (so many packages didn't make it and were returned, with UPS saying, address unknown; the down side to being in a totally new area and street). We had two Christmas trees this year, but I only wrapped presents and stuck under the new 9′ tree in the keeping room. We sent out cards, but seem to get fewer and fewer every year. I guess people just don't do cards as much as they did a generation ago. I baked cookies and made treats and took to all the new neighbors. We had a great Sunday school party a week before Christmas – great food, great fellowship, had fun playing charades and singing Christmas carols.
We had our traditional three Christmases – one with Tim's family on the Saturday before Christmas, one for ourselves (first in the new house!) on Christmas Eve and then with Gail and family on Christmas Day at her house. Tim and I got up on Christmas Eve, had our once yearly Christmas sticky buns and coffee and juice and then opened our presents to each other. Tim got some gadget-y gifts from me like a bluetooth car code reader, an iGrill mini, and then golf clubs he picked out. He got me a beautiful charm bracelet, a gold long tiered necklace, some earrings and this shiny new MacBook Pro I'm typing this blog post on!. After we finished our presents, we had Suzanne over to hang out and have our meal – Tim grilled ribeyes for him and Suzie and I had a nice piece of salmon, baked sweet potatoes, salad, and some acorn squash. We went to the early Christmas Eve service at church and it was candlelit and just beautiful. Suzanne came back after her early service, and even though it's tradition for me to watch "It's a Wonderful Life" on Christmas Eve, Suzie had just seen it (for the FIRST time) a few days before, so we watched my other favorite Christmas movie, I had just watched it the day before, "The Bishop's Wife". We missed my Dad a lot this year, my first without my daddy and my first without both of my parents. I don't like being an orphan 🙁
A couple of photos… Tim plopping out our sticky buns: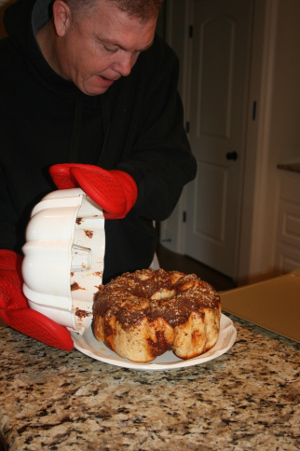 Tim with his new bluetooth code reader for the vehicles: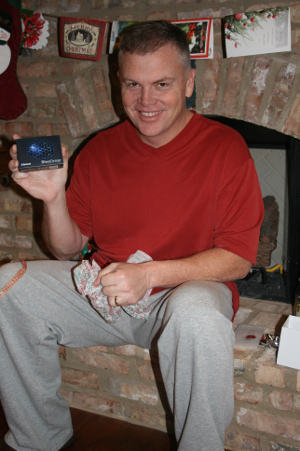 Stacy's new wok (that I bought and wrapped, because I had no idea I was getting a Mac!):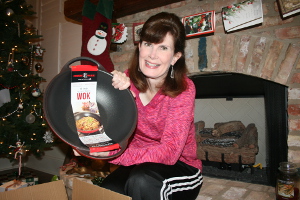 Tim with his new golf clubs (Taylor MC irons):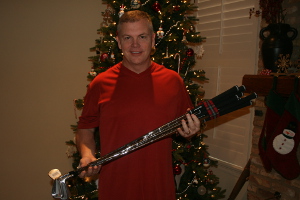 My new Mac!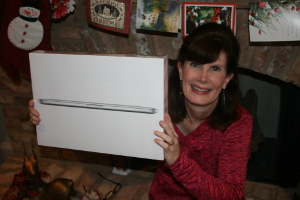 And my new charm bracelet, Tim picked out every single charm for me! So sweet 😀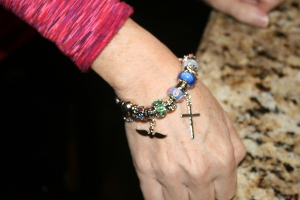 After Christmas, we stayed busy but nothing spectacular. I did my annual day after shopping, stocking up on paper, bows, etc and also picked up a few decorating items for next year. I still need to get a lot of things for the house, both for everyday decor and for seasonal decor. We are still just using everything from the old house, and a lot of it is 15-20 years old. Yikes! I both love and get frustrated by trying to find things for the new house. I'm not Martha Stewart and I don't have a great eye for things and how they will look in the house or go with other things I have or want to get. It's a constant struggle for me. Tim helps a lot and it pains me greatly to admit that he is a better decorator than I am, and even though he's COLOR BLIND, he's better at putting things together. Sigh.
We got everything packed up and shoved back in the attic. I do love my Snow Village and Christmas decorations, and always hesitate on putting them away, but then once I get started, I get rolling and am ready to get it put away. There's something about having the space back and ready to start a new year 🙂
We spent a quiet New Years Eve and New Years Day. We usually do, but this year more so than most. Tim worked New Years Eve, but they did let him go around 2 PM and so he ran to the golf course to play before dark. Don and Gail had spent the night before, headed to the hospital to see Don's mom in ICU (as I type this, she has been in ICU for 3 weeks and on a ventilator for 2 weeks). They got here the night before NY Eve and we all went to the new Longhorn Steakhouse that opened up a couple of weeks ago, very good. New Years Eve, Don and Gail had thought they would go home, but ended up coming back here again to stay. Both Ole Miss and Ms State were in bowl games on New Years Eve (and both lost, very sad), and we watched the State game New Years Eve night. The new neighborhood proved to be a great place for watching fireworks! At the old house, we were in the city and fireworks were prohibited. Our here in the country, apparently not! Several people shot fireworks off and on from dark until midnight, including our new neighbor Brian and his family (2 doors down) who shot some great ones. I should have dug out my tripod and read about photographing fireworks. I took a lot of shots but most of them are not good. Anyway, New Years Day, we went to our new neighbors house for food and football, over to Tim and Becky's across the street. Had a great time visiting with the new neighbors. We watched football most of the rest of the day (well, Tim did, I mostly read Unbroken, so I could try to finish it as he wants to go see the movie soon).
That hits the highlights I guess 🙂 I would like to say I'd do better about blogging in 2015, but I'm not making any promises. I don't think anyone reads this anymore anyway! 🙂 I have so many things I want and need to do in the new year… I can easily see me letting blogging slip to the side again.