We spent all day Friday at my in-laws, and Tim went hunting with his dad and my dad. No deer, though. My mother-in-law and I put out most of her Christmas decorations, which was fun. So, on Saturday, I hood-winked Tim into staying away from the golf course (he was not happy about that), and helping me get out all of our Christmas tree, lights and decorations.
He started unpacking the tree (yes, we have an artificial tree) and the first branch he pulled down, broke and fell off the tree. Well. He said he could try to fix it. Since it was a plastic piece that broke and not a metal one that was welded, he said the only thing he could do was *duct tape* it back to the frame. Um, how about we go shopping for a new tree ?! Actually, it was his idea, and even though I hated to spend the money, I agreed. What I realized later on was that he had an ulterior motive – he wanted to buy a pre-lit tree so that he could get out of his yearly duty of stringing the lights on the Christmas tree!!! See, I have always thought it would be "fun" and "sweet" and "memorable" for both of us to decorate our tree together. Tim, on the other hand, thinks it is not any of those things and has absolutely no interest in it. So, shortly after we got married, we arrived at a compromise – he'd put the tree together and put on the lights and I would do the ornaments and decorations. Now, with the pre-lit tree, he has just shirked all of his Christmas duties.

We looked at a couple of stores and finally found one we both liked at Target – a 7 1/2 foot prelit tree with white lights and a fragrance module. The fragrance thing is scented oil that really does smell just like a fresh cut tree. I love it but it is strong and Tim says it is too overpowering. So, right now, I plug it in for about an hour a day, then he makes me unplug it and put it in the garage! 🙄
Tim and Beau put up the outdoor lights yesterday, then we got the tree up last night, and also watched our alma mater win their final regular-season game on TV. They will now play for the conference championship, and if they win, they'll go to the Liberty Bowl. Woot-Woot!
I'm finishing the rest of the decorations this afternoon, including my Snow Village. In the mean time, here's the tree:
Regular "Auto" mode on my camera: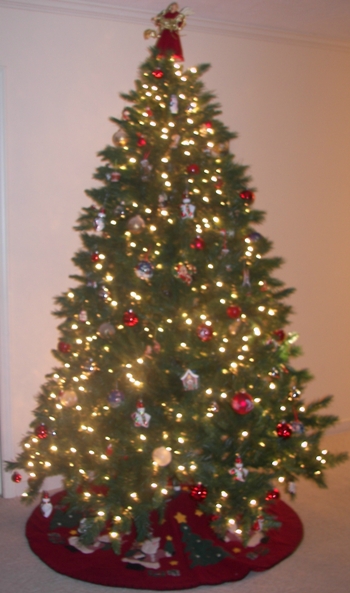 And one in "Candlelight" mode on my camera: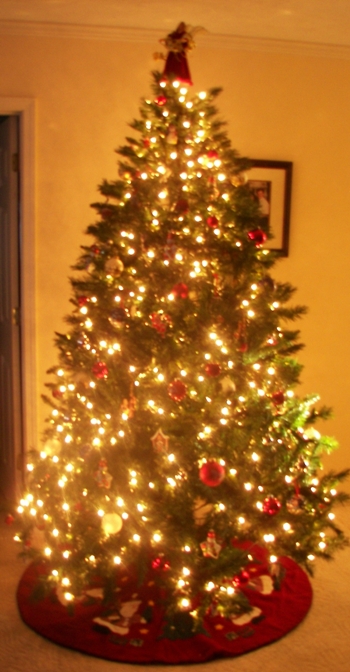 Lastly, how about a Question of the Day:
Do you have a real or artificial tree at your house? Is it already up or when will you put it up?
P.S. I seem to be having trouble figuring out the best way to take a photo of this thing lit up! Leave me a comment and let me know what settings you put your camera on to take the best picture of a lit Christmas tree. What mode or settings or … whatever! Thanks!!!!