I've been trying to take a few pictures of our decorations and tree, and some of my favorite ornaments and things, to post here. I wanted to make a separate entry about our nativity set, since it has such special meaning for us.
Here it is, it's not very big, but we love it:

This nativity has a very special meaning for us – my husband's mother brought it back for us from Bethlehem. She went on a tour of the Holy Land, which has always been her lifelong dream, several years ago. Thankfully, it was before 9/11 because I don't think any of us would let her go now. 🙂 She loved it, and brought back several nativities, including this one for us. It is all hand made, out of olive wood, and the designer even wrote Bethlehem on the side of the stable roof: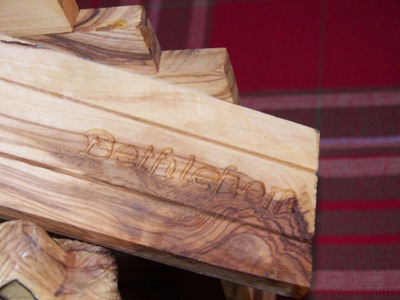 We love nativities, and love what they represent. I would love to have this one by Willow Tree/Demdaco, but I don't think I would ever want to spend that kind of money on it. 🙂 I would also like to get a larger ceramic one, with some color, but I simply don't have room to display anything else! I do love my little nativity though, and put it out every year.
Merry Christmas!