Yes, I'm the world's slowest blogger, I admit it. We've been home a week now, and I still haven't posted half of the pictures that I took on vacation to Georgia that I had planned to post. I started off slow, just posting one or two at a time, then realized mid-week that wasn't going to cut it! I have so many scenic shots and things I wanted to blog about, but I think I must be slower than molasses to get it all on the blog. Sorry about that!
I've been posting some from Callaway Gardens – of flowers and butterflies. The main point of that first stop at Callaway Gardens was for Tim (hubs) and Don (BIL) to play golf. I have a few golf pictures, but I'm not going to post any. Blogger Privilege, hehehe!

I'm also going to skip posting pictures from Warm Springs, GA (our second stop), although we really enjoyed it. Warm Springs is the location of the only home that Franklin D Roosevelt ever owned, which is also the house that he died in. Neither of us knew that – he was having a portrait painted at his modest home in Georgia on April 12, 1945, right before WWII ended. He collapsed and was carried to his bed where he died a couple of hours later. They also had a really good little museum dedicated to his life, his presidency (all 4 of them), his battle with polio, the healing effects of Warm Springs and the work he did there to benefit other disabled people. We really enjoyed it, but the pictures are not that breathtaking, just your typical museum type stuff.
So, I will move on to our last stop on vacation – Savannah Georgia. Today's photos are of some of the parks and squares and monuments. Savannah is a beautiful place – so clean and well laid out and just very Southern in the look and feel of the place. Very genteel! We felt safe and in a very cared for area, walking the 22 square blocks of the historic district. The parks are laid out every couple of blocks, and we walked to most of them. We saw tons of monuments, markers, fountains, and plaques devoted to people important in the life of Savannah, many of which dated back to Revolutionary times. We are both history nuts, so we loved reading and learning about the history of the area.
Click on the extended entry for some pictures, and I'll be back soon (maybe this weekend?) with some pictures of churches and cemeteries, and of Tybee Island.
Have a great day, everyone!
Cobblestoned streets, leading down toward the Riverwalk: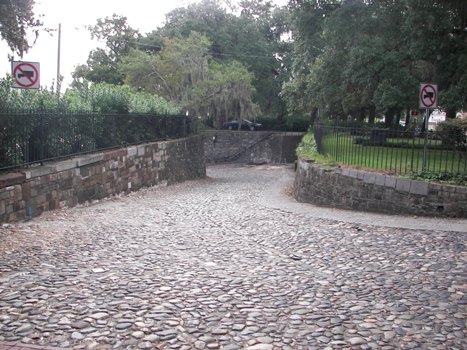 Factor's Row, just above the Riverwalk (factors, I believe, were cotton merchants who set the price of cotton and other exports):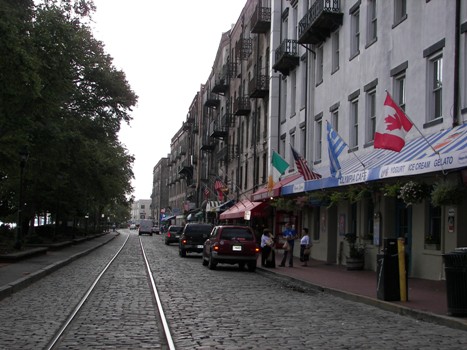 Savannah's Riverwalk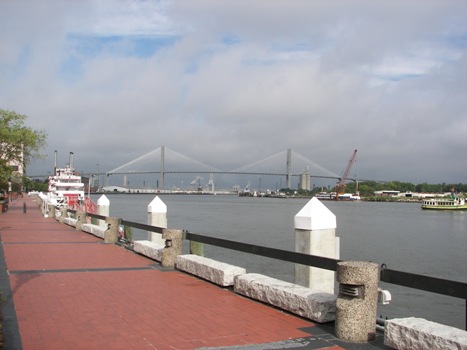 Paddle Boats lined up on the River: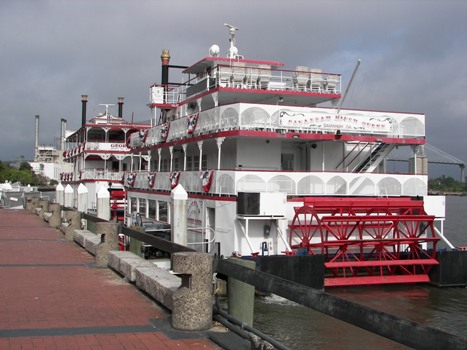 Views of the city streets, it was so very Southern and very picturesque: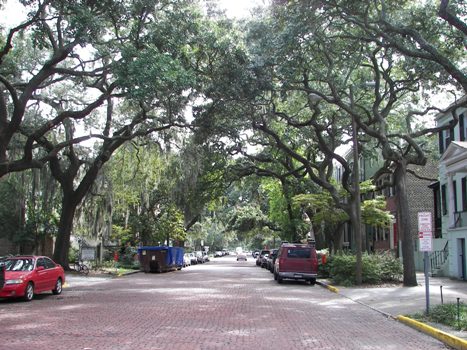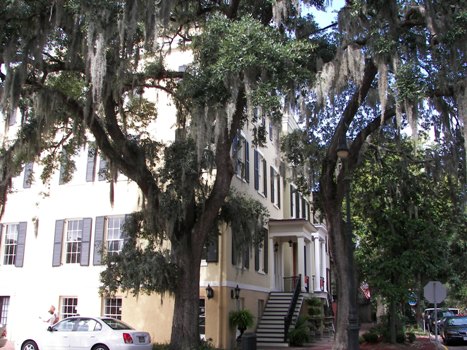 A couple of shots I took of the many, many parks we walked to (most of the bigger ones included monuments to people famous in Savannah's long history):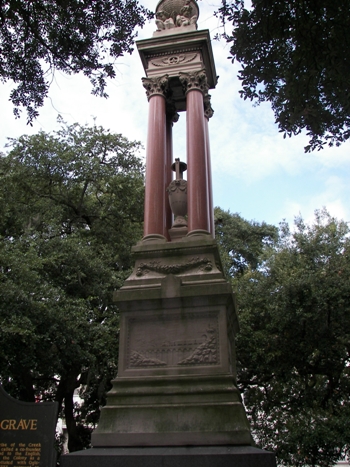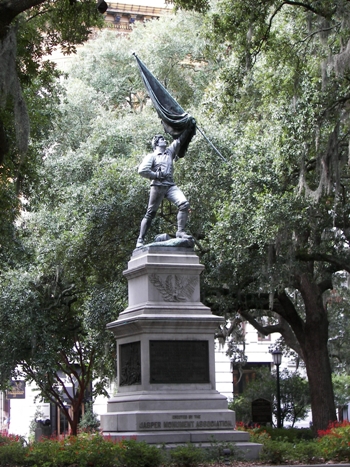 Probably the most famous park in Savannah, Forsyth Park, with its gorgeous fountain: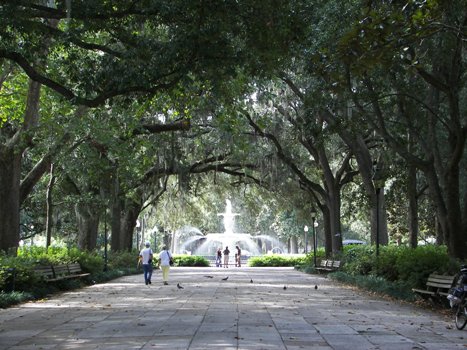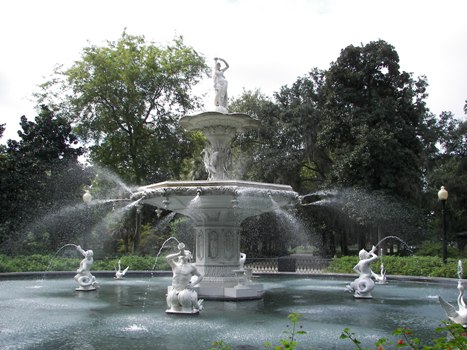 And finally, a few shots of our hotel. It is a historic inn a block from the Riverwalk and we just loved it! I would definitely recommend this place, it had wonderful rooms, a nice little continental breakfast, a wine and cheese cordial reception in the evenings, as well as nightly turn down service (they dimmed the lights, turned on the Sony Dream Machine to jazz music, left chocolates on our pillow, ice in our bucket and turned down the bed, all very cozy!). The only negative thing was that the water was warm by the time we got up in the mornings to shower, not hot, just warm. After 4 nights and 3 days, that is the only thing I could come up with that was less than stellar!