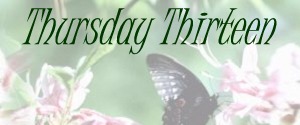 Thirteen Butterfly Pictures!
Thanks to Phoenix for the banner!
We were on vacation last week and I didn't get to play Thursday Thirteen. I missed playing, and it's good to be back!

I've slowly been posting a few pictures from our trip to Callaway Gardens and Savannah Georgia. I still haven't posted any pictures from Savannah, but they will be forthcoming soon. In the mean time, I wanted to post some of the many pictures I took of butterflies at the Butterfly Conservatory at Callaway Gardens. It was such a fun place for someone like me, who loves to take pictures!
1. Not sure if this is a type of monarch, or just has the orange coloring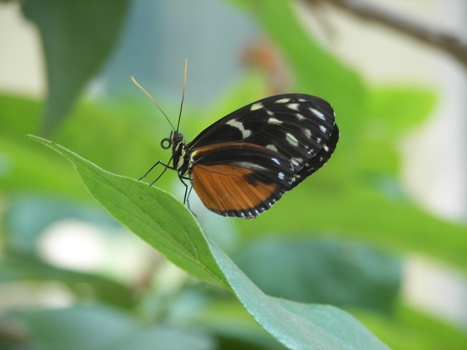 2. No idea on the name of most of these, but I thought they were pretty!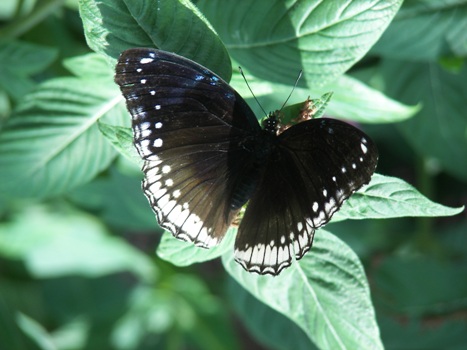 3. Again, no idea what this one is really called, but it was one of my favorites… I call them Tiger Butterflies!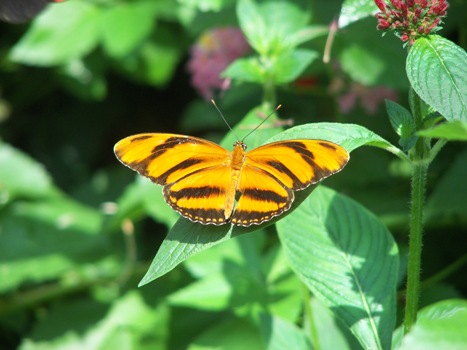 4. Another one I just loved… I love green, so this one was so pretty to me. These were hard to photograph, since they blended in so well with all the leaves and greenery.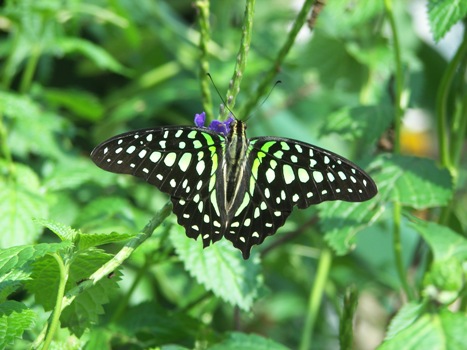 Click below to see the rest!!!
5. A different green and brown one… I also took a picture of one of these hiding in one of the vents that blew out the mist, there was a fine mist spraying in there to help keep it climate controlled, I think: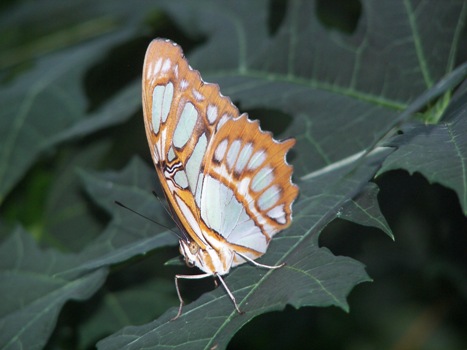 6. I loved the monarch ones!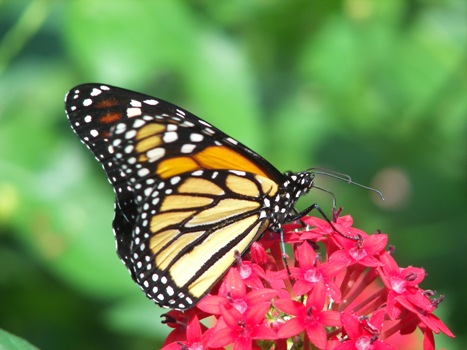 7. There were a lot of these black ones with a single red stripe on their wings. They fluttered constantly and I had a really hard time getting a picture, since they wouldn't hold still for a second! The red really showed, so I guess since they didn't blend in as well with their environment, they were more prone to predators and thus fluttered constantly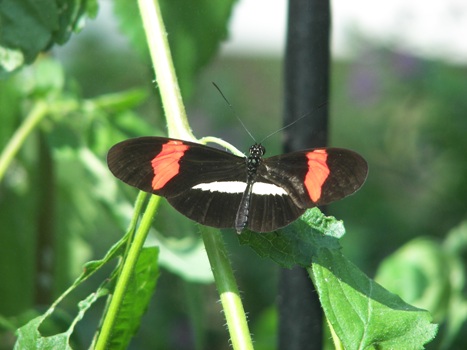 8. The prettiest blue, the camera doesn't do it justice! I only saw one of these and had a hard time getting a picture. This one was hiding up in some foliage: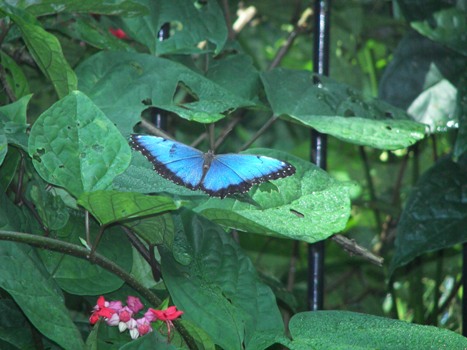 9. I only saw one of these as well, black with orange dots. They had several small containers that held old, rotted bananas and orange slices. I guess for them to eat, although most of the butterflies seemed to be feeding on the flowers…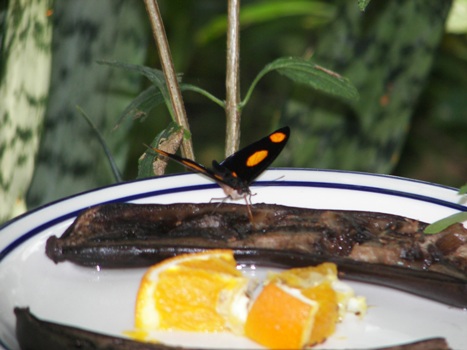 10. Took this one with a different camera, sorry about the size and date…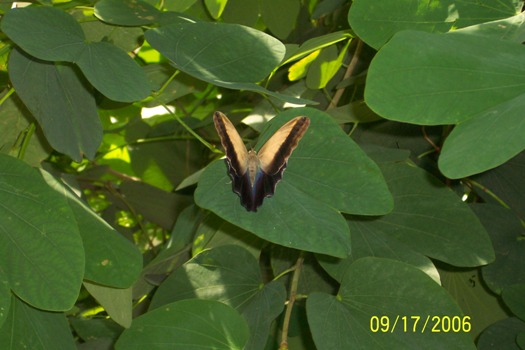 11. It doesn't show in the photos, but there's a tinge of blue on the wings, where some of the white is, then this one also had red. So pretty!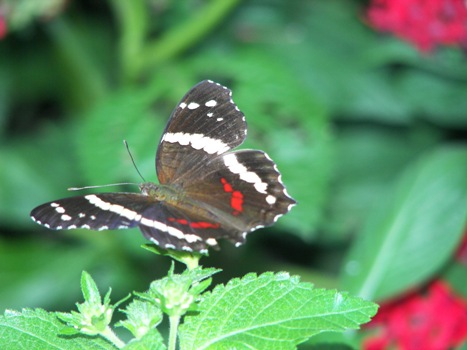 12. I had previously posted these, because they are so unique and some of my most favorite pictures I took while we were gone. They're called owl butterflies and I saw a lot of them. They didn't strike me as pretty, when I saw them by themselves, but when they hung side by side, I was so totally amazed! These butterflies remind me that there is a Creator and He does nothing by accident, it's all by His design. I thought these were awesome!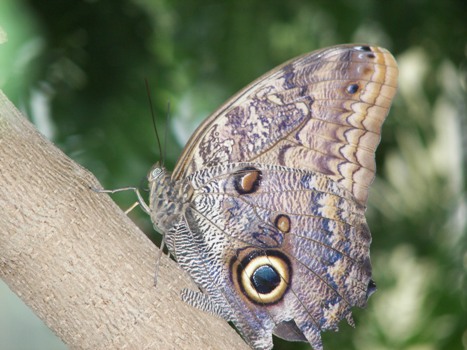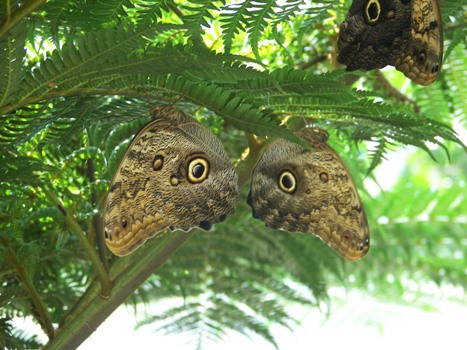 13. Last, I thought the coolest thing was that the butterflies liked me! I went twice and both times, this whitish butterfly would land on my leg. I had to really shake my leg to get them off! They love the camoflauge, I guess, my white legs with brown freckles made them feel safe from predators! Haha, they blended right in! 😀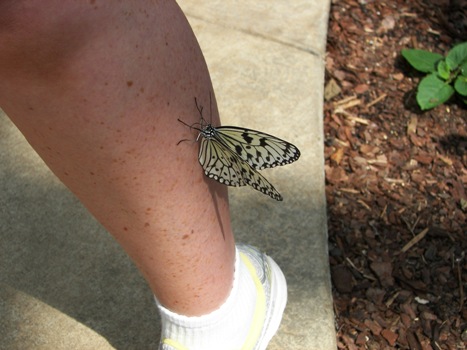 Me looking down my leg, taking a photo of the butterfly attached to my leg (they sort of tickled!):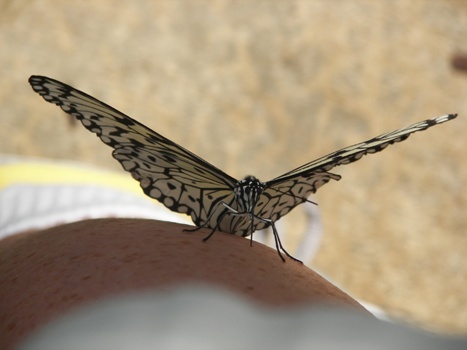 Get the Thursday Thirteen code here!
The purpose of the meme is to get to know everyone who participates a little bit better every Thursday. Visiting fellow Thirteeners is encouraged! If you participate, leave the link to your Thirteen in others comments. It's easy, and fun! Be sure to update your Thirteen with links that are left for you, as well! I will link to everyone who participates and leaves a link to their 13 things. Trackbacks, pings, comment links accepted!
View More Thursday Thirteen Participants