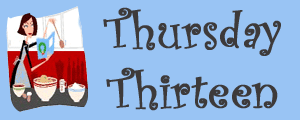 Thirteen Things in My Refrigerator
Thanks to Chaotic Home for the banner!
This week, I'm posting 13 things that I always have in my refrigerator these days. Some with pictures, some with recipe links. Enjoy!
1. Milk – we drink only fat-free skim, but we drink a lot. For the two of us, we go through 2-3 gallons a week!
2. Orange Juice – my hubby doesn't drink it, just me. I only drink pulp-free, I'm picky that way 🙂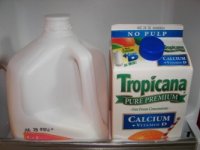 3. Eggs – thankfully, I've never listened to the PTB (powers that be) who said eggs were bad for you. I buy eggs every week, and we eat them a lot. I boil them to add to salads, I make egg salad, chicken salad, tuna salad, salmon salad, etc for lunch often. We eat a lot of breakfast food, even at night. I love to bake, and most of my recipes call for eggs.
4. Yogurt – the hubby won't touch this with a ten foot pole. Thank goodness, they're all mine. My yogurt of choice: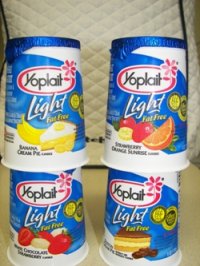 5. Creamer – my husband will only drink plain, black coffee. I can't drink it that way. I have to add Splenda and some kind of flavored creamer. Lately, it's been fat-free french vanilla and this one, fat free cinnamon vanilla creme: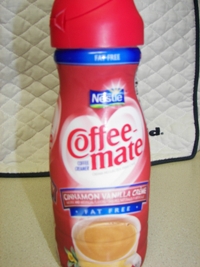 6. Hoisin Sauce – love this stuff. I use it for this salmon recipe, as well as for this Cooking Light Chicken and Cabbage dish, and these chicken "buns" that my husband says tastes sort of like the "yakimandu" he ate while stationed in Korea. We love hoisin!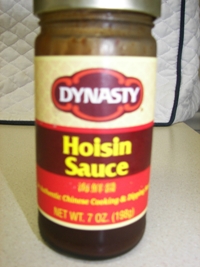 7. Hershey's Chocolate syrup – gotta have chocolate milk sometimes! We also always pour chocolate syrup over homemade vanilla ice cream.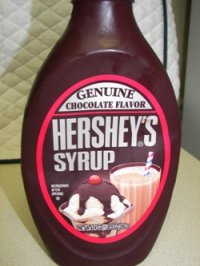 8. Allegro Spicy Marinade – my husband will only grill steaks if we marinate them in this stuff, he adores it: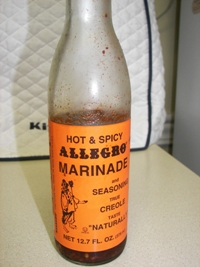 9. Marinated Mushrooms – I have been buying these things for years from Sam's Club. We both love them. I keep them on hand to toss into green salads, and we love to just eat them right from the jar!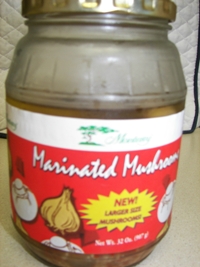 10. On the Border Salsa – another item I've been buying for years from Sam's Club. We really like this jarred salsa. We use it for chips, obviously, but mostly I use it to cook with. I make this shredded chicken to use in a chicken version of taco salad, in enchiladas, or just rolled up in tortillas for a quick wrap. I also use salsa for this recipe for Crockpot Chicken Santa Fe. This is one of my favorite things to make; not surpisingly, I just made it a few days ago!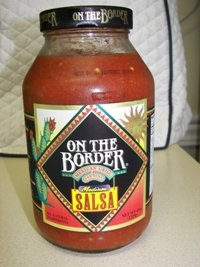 11. Maple Syrup – I buy this at Sam's Club too…. We both love pancakes, and I love to make this Maple BBQ pulled chicken to have on sandwiches. We both really prefer it to bbq or sloppy joes.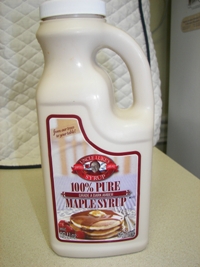 12. Lipton Diet Green Tea – I've been on a kick with these this summer. I love these things: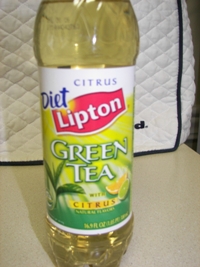 13. Sourdough Bread Starter This is the sourdough bread starter that my sister graciously shared with me several months ago. (hard to see in the picture, I took this picture on Wednesday, the day I "feed" it and it sort of bubbles at the top). I love to bake and love to make bread. I have a bread machine that I've used for years and years, but we love this stuff too… nothing like homemade bread hot out of the oven, even in the summer!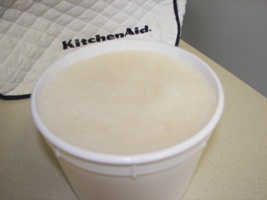 Get the Thursday Thirteen code here!
The purpose of the meme is to get to know everyone who participates a little bit better every Thursday. Visiting fellow Thirteeners is encouraged! If you participate, leave the link to your Thirteen in others comments. It's easy, and fun! Be sure to update your Thirteen with links that are left for you, as well! I will link to everyone who participates and leaves a link to their 13 things. Trackbacks, pings, comment links accepted!
View More Thursday Thirteen Participants