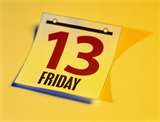 Hard to believe it's Friday… another week has flown by. I had to hear on the news that it is indeed Friday the 13th, and the third one we have had this year (apparently a bit rare). There was one in January and another in April. We appear to be clear now for superstitious days through the end of the year!

In the news… Tom Cruise is divorcing Katie Holmes. Yeah, I'm thinking Scientology and their control of that child might have had a bit to do with it. Presidential politics is on daily - Barak Obama will run against Mitt Romney in November. Steven Tyler and J Lo are leaving Idol.
Local news … our local paper is raising rates and also going to stop allowing "free" access to their website. Boo. Hiss. I guess I'll follow the local news stations on Twitter and check out their Facebook pages more.
Local weather … we've had a nice, cooler, wetter week. It's rained almost every day. Tim has not played golf at all this week. It's been nice for me, but sheer torture for him.
Tomorrow is Tim's brother Mark's birthday… Happy Birthday Mark! We need to get him on Facebook or Twitter so we can talk to him.

We need to get Tim's other brother Terry onto the Internet, email and Facebook. He doesn't have a computer or email, so he's REALLY hard to get in touch with, LOL! I think they actually expect us to pick up a real phone and dial them or something, hahaha!
Oh, and a bit of aggravating news for me. The 10 pounds I had lost late last year before my colonoscopy have now all returned. Boo. Bad Stacy. Nothing like eating more carbs, bread, sweets, ice cream, etc to really pack the pounds back on. I need to get back to more veggies and less fattening stuff.
UPDATE: And right after I posted this, it came across the news that our favorite quarterback, Drew Brees, FINALLY signed his contract with the Saints today. Whew. Now we can rest easy and know that he'll be in camp and heading up our offense this fall. Good thing, since we've lost so many players and our coach this year, to the much publicized "BountyGate".