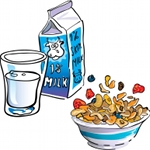 Is cereal a staple at your house? It is at ours. We have a whole deep drawer devoted to just cereal and granola bars. I'm not sure why I have so much space devoted to one food category, or why we keep so much cereal. Probably because I'm all about options and having choices. I really could probably use that space more wisely and efficiently for something else

I eat a lot less cereal than I used to. I have made a concerted effort to transition to oatmeal in the last couple of years, to try to keep my cholesterol numbers down. I try to eat oatmeal 6 or sometimes 7 days a week, most of the year. It's really easy in the winter. July and August are a little harder, although I usually succeed. Most of the time, I "splurge" on Sunday mornings and have a bowl of cereal before early church. It takes less time and gives me enough energy to get through church. I tried skipping breakfast a couple of mornings, and got dizzy one time, getting up and down to sing during church. Now, I make sure to eat something!
Tim is a breakfast kind of guy. But not cereal. He grew up with his mom fixing him a "big breakfast" before he left on the school bus. Tim's idea of breakfast is biscuits, eggs, bacon or sausage, and grits. Every. Single. Morning. Me, I can't cook very well when I'm sleepy and I just don't think it's that healthy to eat that every day, first thing. So, he's had to compromise over the years, and eat breakfast for dinner about once every week or so. In the mornings, he's pretty much stuck with cereal or oatmeal.
I only buy "semi-healthy" cereal. I keep cornflakes, for when we have bananas (or I need them for a coating of some kind). I keep Raisin Bran Crunch for Tim, and two kinds of Cheerios for me (he eats them sometimes too). I also keep granola bars for Tim, he likes to take them to the golf course.

So, are you a cereal eater? Do you stick to one kind or do you like options or variety? Do you eat the sugary, good kind from childhood (Fruit Loops, Cocoa Pebbles, etc), or have you switched to a semi-healthy kind as an adult? Leave me a comment and let me know!