You know what they say about the best of intentions? Yes, that was me a couple of months ago when I thought I was back into blogging. Oh well, I really have been meaning to update the old blog! I actually don't know where to start 🙂
Since I blogged last, we've been busy! We have:
gone to our great-nephew Sam's 3rd birthday party
Tim hurt his back and was out of commission for a short while
I've had a birthday (and got a Kindle!)
my sister Gail ran her second 5K
Had Halloween at our house and went trick or treating with small kids for the first time
my sister Suzanne came to visit from Florida
I went to my yearly doctor visit and found out my cholesterol is high (ugh)
I've been trying to cook and eat better (haha!)
and now… we're about to have Thanksgiving and Tim's birthday. A lot going on, and I'd like to record some of it to remember, but a lot of it is "old news" by now!
Let's start here – I wrote this post a couple months ago about a prize I won online. I watch the Rachael Ray show pretty regularly, and try to enter most of the contests they offer online. I won a nice prize, a Shark Pocket Steam Mop, and it came in a couple of weeks after they notified me that I had won. It was very cool, because it was delivered the morning that I clean our floors in the kitchen and breakfast room. I already had the room empty, swept and ready to mop when the doorbell rang!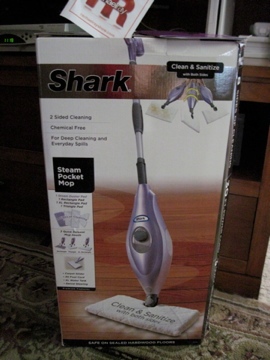 So, I gave it a good test and I have to say, I really like using an electric steam mop as opposed to a wet mop. It uses just water, so I no longer use chemicals on my floor. The pads are interchangeable (it has 3 sizes of "heads", one regular, one extra large, and one triangular which is great in the bathrooms) and you can wash the microfiber covers. They're white, so you can REALLY see what dirt is coming up off your floors. The best thing, hands down, about using this steam mop is how quickly the floor dries. It's dry just a couple of minutes after I mop over it. I love it 🙂
I'll try to update soon with a picture of my Kindle and the cute case I ordered for it, and blog about that soon. I might update with some photos of family events, but then again, I may just put them on Flickr.
Hope everyone is having a great day, week, and great fall! 😀