I'm still trying to catch up from being gone on vacation. Today is a day for going through the pile of mail and newspapers, working on the pile of laundry, catching up on emails, blogging and posting photos to my Project365 photoblog. It's going to be another day or two before I get caught up enough to come by and visit all of my favorite blogs – hope everyone understands 🙂
I'm using my Project365 blog for most of the pictures I post, so go check out the last several days entries if you want to see some vacation pictures. I actually didn't take a lot of photos on this trip. Half the time, I left my camera in my room 🙁 I think because we've been up here so many times before that I just didn't think to take photos. I did take a few though, and I've posted some over at my photo blog. I'll post a few more in the extended entry, so click on the more button if you want to check them out 🙂
I posted several pictures of our cabin and view over on my photoblog, here. Here's a view of the front, near sunset, while Tim was grilling and a few others looked on: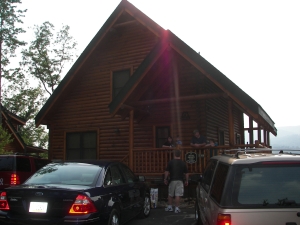 A carved eagle we all thought was really cool was on the front porch: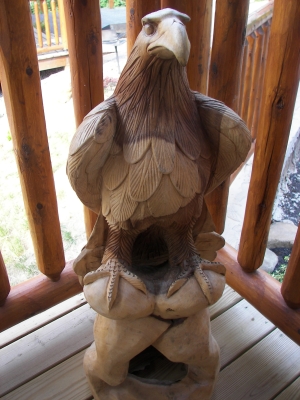 Any trip to Gatlinburg for me is a walk down memory lane. Tim and I got married up here and had our honeymoon here. I always get him to drive me by the chapel where we got married. It's a little worse for wear than it was a little over 11 years ago, when we got married 😀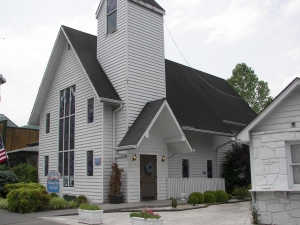 A photo of us at Ober Gatlinburg: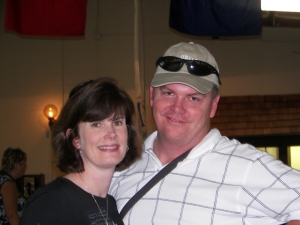 Monday afternoon we played indoor glow golf with our nephew Zack. My boys had a good time posing in all of the cutouts in the putt putt place!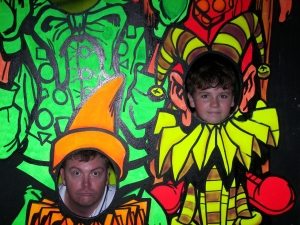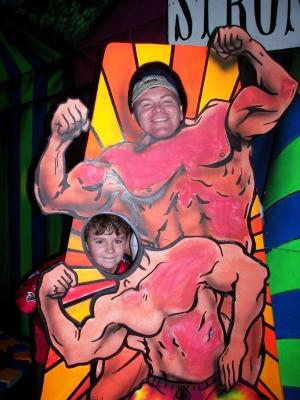 A scenic shot of the Great Smoky Mountain National park, a bridge and stream near the visitor's center: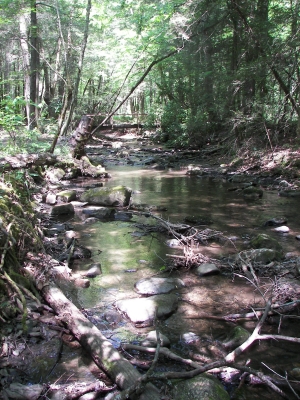 Our last day there, Tim and I went to the park to attempt Clingman's Dome again. On our last trip, a couple of years ago in the fall, we drove all the way up (the highest point in the park), then walked the 1/2 mile up the steep (but paved) walkway to the very top. We were very disappointed because it was "socked" in with fog. We couldn't see a thing. We were rewarded today for our patience – beautiful blue skies, puffy white clouds and great vistas. Here's a few shots of the park from Clingman's Dome along with a couple of people pictures: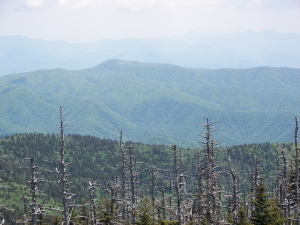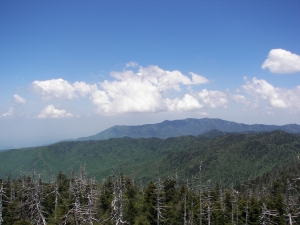 I took a couple of shots using the black and white mode on my camera; this was my favorite one: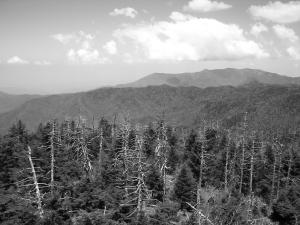 Us!