Well, it's nearly two weeks since we were in Savannah, and I'm still working on pictures! Geesh, I'm slow! Sorry about that… there are a lot that I want to show, so I've included a bunch on the extended page. Enjoy!
First up, a favorite I took down at the Riverwalk. We were sitting on a bench, watching a boat navigate up the river, and these buildings were behind us. I loved the contrast of brick and stucco and whatever else was showing in spots on the facade: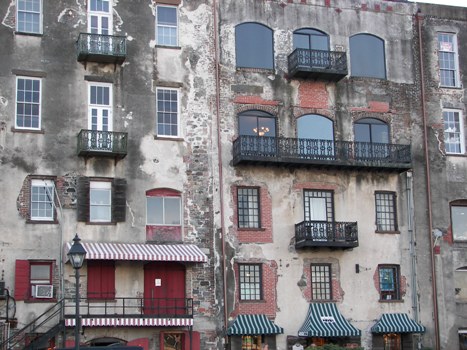 When we decided we were going to Savannah, I knew that two things I wanted to do were see Bonaventure Cemetery, and eat at Paula Deen's restaurant, The Lady and Sons. I'm sorry to report that I did neither! I had not read great things about her restaurant (2 hour waits, good but not spectacular country cooking, which we get all the time at home). I really wanted to see several of the historic homes that are open to the public (for a fee) and also Bonaventure Cemetery (even though I never read the book), but Tim was so not into that! He really didn't want to go and I didn't want to make him miserable on vacation, so we skipped those. Click on the -more- to see some of the other stuff we did though, including some churches and one cemetery in the historic district, our trip to Fort Pulaski, and our trip to Tybee Island.
There is one very old cemetery in the historic district, called Colonial Park, which dates back to 1750. Here's one shot: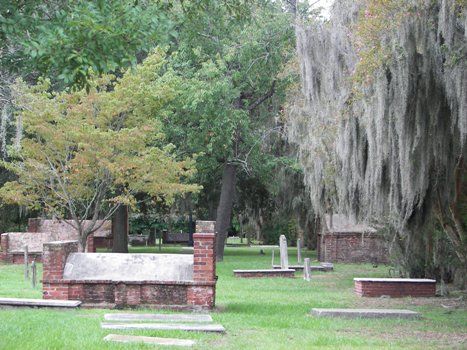 Historic Savannah is full of beautiful parks, monuments, fountains, and churches – beautiful churches. Here's several: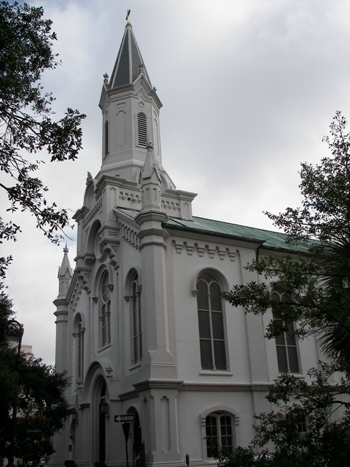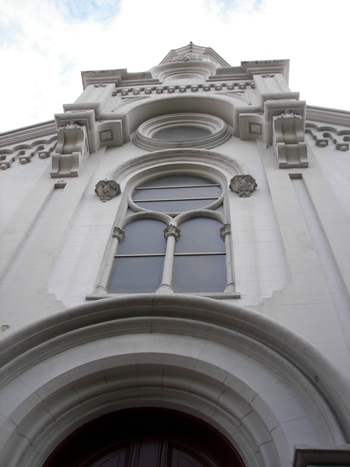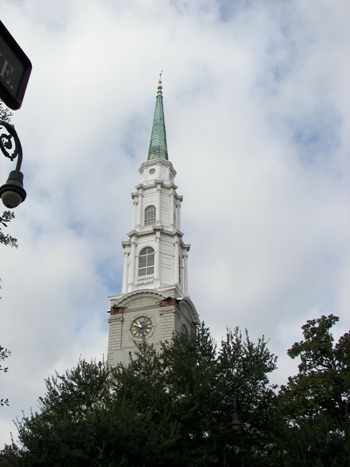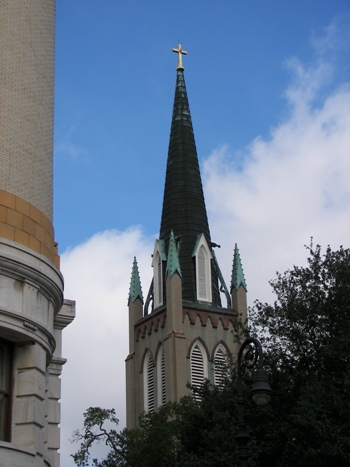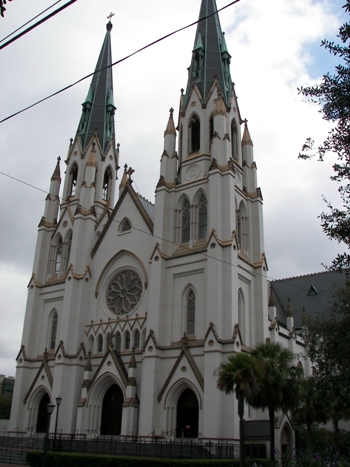 On the last full day we were there, we spent the day out on Tybee Island and Fort Pulaski on nearby Cockspur Island. We are both huge history nuts, and we enjoyed both, for the history and the scenic views.
Fort Pulaski, built by the US Gov't before the Civil War (Robert E. Lee was a stationed here a while and helped with the ditch and irrigation systems), was the site of an early battle, and a decisive one. The walls are 7 1/2 feet thick, and the Confederates were sure it was invincible. However, the North used a new device, a rifled cannon, and tore down the walls from their positions over a mile away in approximately 33 hours. This radically changed the way coastal defenses were built and maintained.
I had never seen a moat around a fort before. There were signs saying there could be alligators and other kinds of wildlife in them, so I didn't get too close!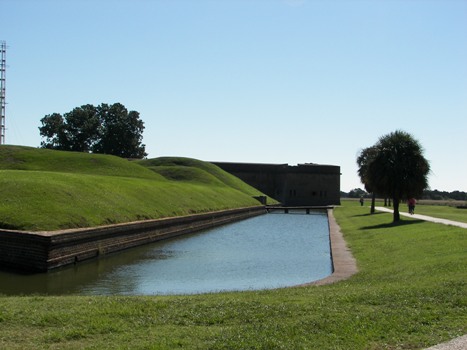 Cannon placements on the upper level: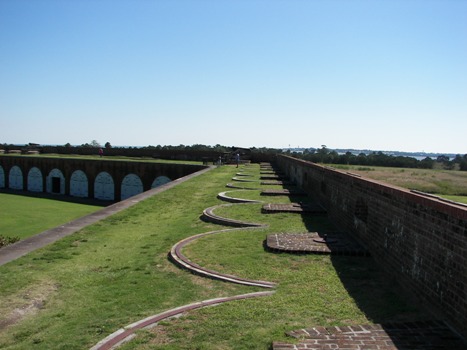 The darker red bricks are newer, when the fort was repaired after the battle and inhabited by the Yankees (there was a prison here also). They basically blew off this front point of the fort, from over a mile away, which we thought was incredible for that time period: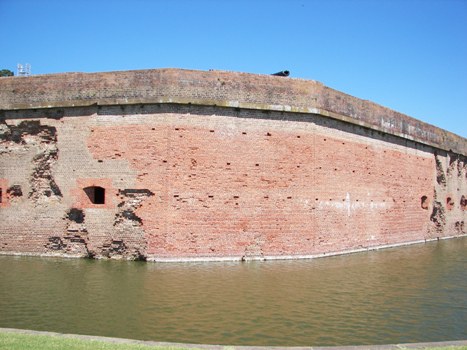 Then, we drove out to Tybee Island to see the lighthouse and the ocean. I had never seen the Atlantic Ocean, and I wanted to walk the beach and stick my feet in the water!
The Lighthouse… this is the third structure built on this site, but the first dates back to Revolutionary times. There were also other buildings here to tour, which were the first, second, and third gatekeeper's cottages. Cool stuff!

Tim climbing up, 178 stairs doesn't sound like much, but my legs hurt the next day!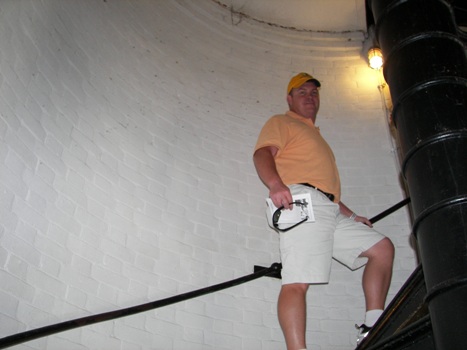 The light: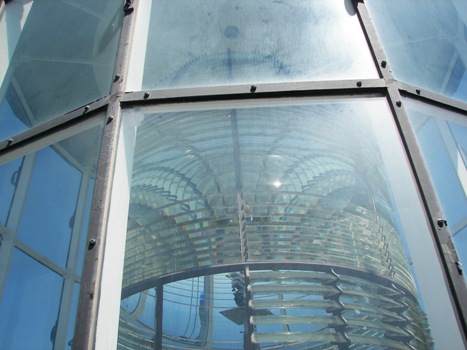 The view from the lighthouse: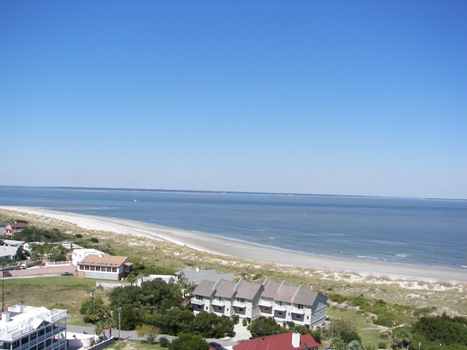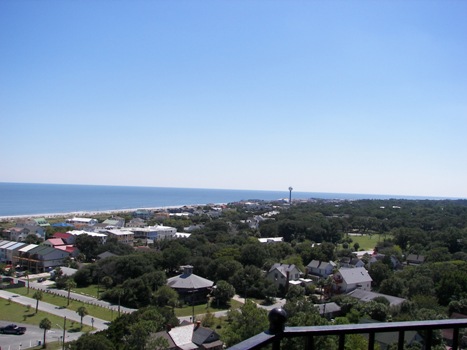 Across the street, there was another museum and an observation deck. Here's us on the deck, overlooking the Atlantic: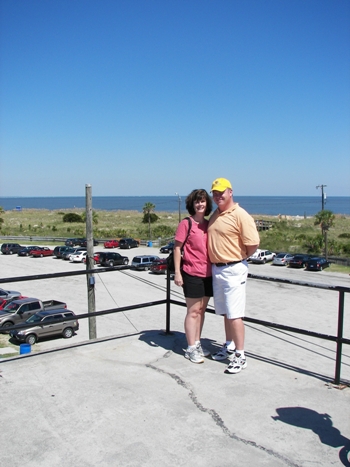 Then, we walked down to the beach: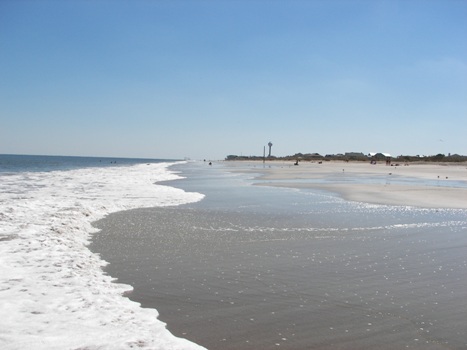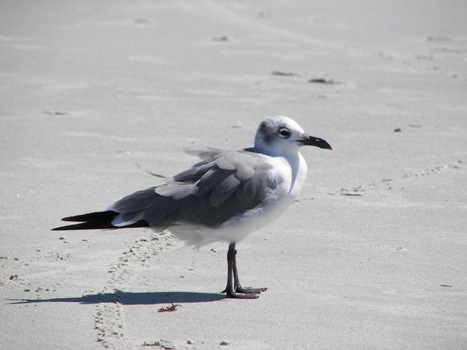 After we left the beach, we were starving. We ate a really late lunch at about 3:00 or 3:30, and then just had dessert for supper when we got back to Savannah! Tim had been wanting a caramel apple, and we got a chocolate, white chocolate, caramel, something else, covered caramel apple! I have pictures, if anyone wants to see that sucker! It was good!
We went to eat at The Crab Shack, on Tybee Island. Very tourist-y, but we loved it, great atmosphere. They had a small gator area outside the restaurant. The below pictures are of the outdoor area where we ate, our food, and some gators!