I still want to post a lot of pictures from our vacation last week, but I seem to be having trouble finding time to sit down and work on all of my pictures. So, I think I'll continue this thing of "Photo of the Day" for a while, and highlight some of my favorite or interesting pictures I took while we were gone.
We went the first weekend to Callaway Gardens Georgia with my sister Gail and her husband Don. Don plays golf with Tim and they always have a good time, so we planned this stop first so the guys could play golf together. Gail and I spent all of our time exploring the gardens, grounds and attractions at Callaway Gardens. It wasn't the optimum time to go. The best time, I think, is in spring when all the azaleas are blooming. Or a few weeks from now, when they have some fall foliage. But, it was still a nice place and we enjoyed several of the attractions.
My favorite place, by far, was their butterfly conservatory. I love butterflies and dragonflies and love trying to get pictures of them. The conservatory was a very cool place, with tons of butterflies flying around. I took *a lot* of pictures and plan to put several more of them here over the next few days and weeks.
I'll start with what I thought was the most unique butterfly there – the Owl Butterfly. I kept seeing these butterflies in the trees and hiding in spots and didn't think much of them, other than… "oh, they are not that pretty". Here's what one looks like: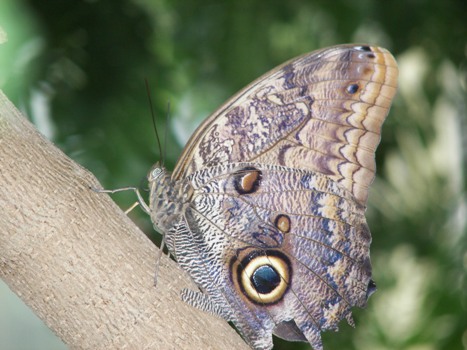 But, then, I saw two of them together and realized how totally cool they were! I was totally amazed at their coloring and markings and how they protect themselves from predators – by looking like an owl! Makes you really stop and realize the beauty of nature and how God made all of these things. You can't tell me that these creatures just happened to be created like this. Look…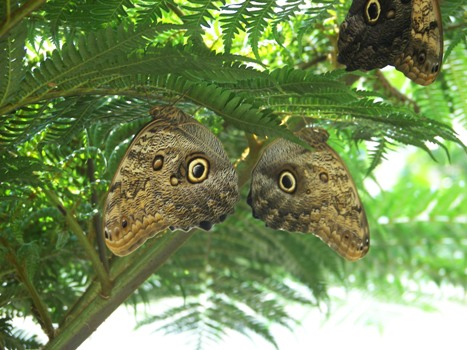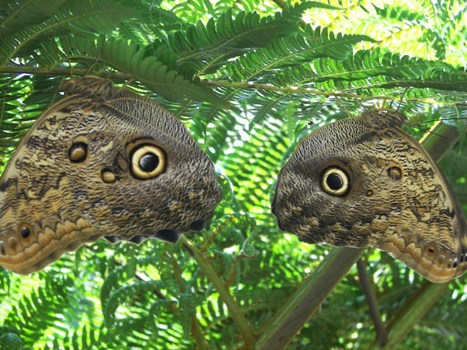 I'll be back either later today or tomorrow with more pictures, probably of more butterflies! There were so many pretty ones there, and I had a blast taking pictures. Gotta love digital, baby 😀