We went to the German Fest near our house today, something I look forward to every fall. I love all the festivals and stuff, but I'm afraid I'm the only one. Tim is only interested in going to get food and not staying, so that's what we did today. My dad drove up, and we all went and got bratwurst and sauerkraut (enough for lunch and dinner). I also bought a t-shirt (love their shirts, I have 3 of them already), some jarred sauerkraut and homemade German mustard. I meant to take my camera to get pictures for the blog, but of course… I forgot. 🙁
So, instead… I'll post another scenic picture from our vacation last week. This time last week, we were in Callaway Gardens, GA. Tim and Don were playing lots of golf, and Gail and I were hanging out and checking out the grounds, butterfly conservatory, horticultural center, etc.
We went to the chapel on the grounds last Sunday, named after one of the lady Callaways, and it was so pretty. Wood and stone, in front of a lake. Very quiet and peaceful and I thought it was just beautiful. This was one of my most favorite pictures I took while we were gone, of the glass window in the church: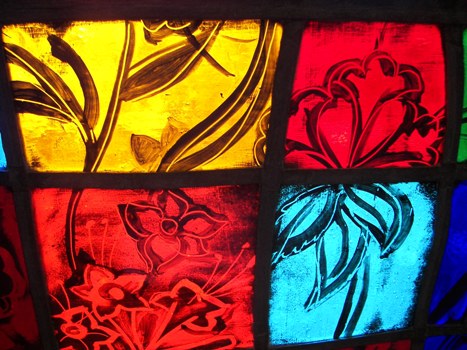 Here's the chapel, and the window that I took the close-up picture above, of: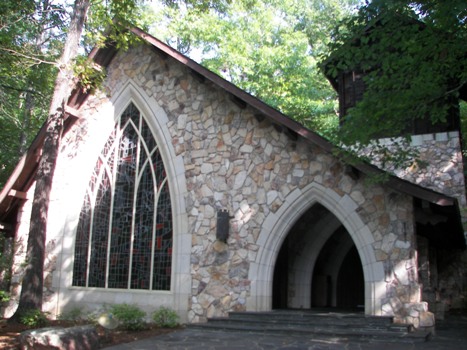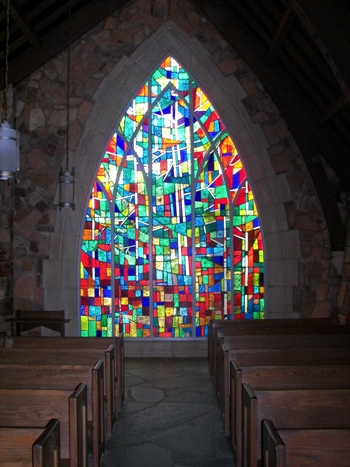 Sigh, I just loved how that first picture came out. So, it's the Photo of the Day! Have a wonderful Sunday everyone!