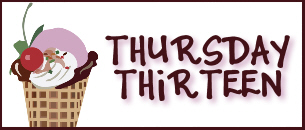 Thirteen of my Favorite Things
Thanks to Mood Swing Creations for the banner!
I have that Julie Andrews song from "The Sound of Musicâ€? stuck in my head. You know, "raindrops on roses and whiskers on kittens, bright copper kettles and warm woolen mittensâ€?. 🙂
Here's some of my favorite things, with no particular rhyme, reason, order or theme!
1. Chinese food
2. Having coffee at my favorite coffee shop
3. Towels, fresh from the dryer
4. Chocolate anything
5. Bookstores
6. Curled up by the fireplace in winter, reading a good book
7. Chick Flicks
8. Going to football games with Tim
9. Yankee Candles
10. Puppies
11. Seeing a falling star
12. Popcorn at the movies
13. Blogging!
Get the Thursday Thirteen code here!
The purpose of the meme is to get to know everyone who participates a little bit better every Thursday. Visiting fellow Thirteeners is encouraged! If you participate, leave the link to your Thirteen in others comments. It's easy, and fun! Be sure to update your Thirteen with links that are left for you, as well! I will link to everyone who participates and leaves a link to their 13 things. Trackbacks, pings, comment links accepted!
View More Thursday Thirteen Participants