Weekly boring update, take four! Nothing really exciting, except we did a lot of eating out 🙂
Good thing that happened… I was treated to lots of surprises this week by my sweet husband. First, I got a surprise night off from cooking on Tuesday! I get emails from Sonic about any kind of special they have, as well as new food and stuff they offer. I always forward them to Tim and always he answers back, thanks but no thanks 🙂 This time, however, he decided to take me up on my offer! I pushed back Tuesday's meal plan till Wednesday and we drove to Sonic Tuesday night for burgers and drinks 🙂 I love doing fun things like that, unplanned, in the middle of the week 😀 And THEN… two days later, he called after I finished Bible Study on Thursday and offered to take me on a lunch date. We went to a local Mexican place and had a quick lunch. SO! Two unplanned, middle of the week, splurge dates. My kind of week!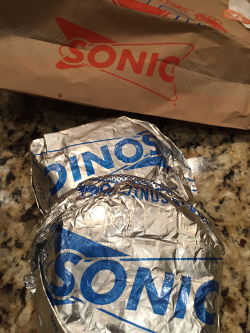 Sad that… my tinnitus has been acting up. In addition to the normal high pitched screeching I hear in my ears, now my right ear is doing the pulse-thumping thing. It's called pulsatile tinnitus and it really drives me nuts. I've often thought that Van Gogh must have had tinnitus, to drive him mad enough to cut off his own ear. 🙁
Book I'm reading: I read 8 books in January! Great month of reading for me 🙂 Read "Critical Pursuit" by Janice Cantore. Started "With Every Letter" by Sarah Sundin. I am really enjoying it, so I went ahead and purchased the other two in this series, since they were on sale at Amazon. I'm looking forward to reading them soon.
Things we ate: Sunday night, we had an Al Fresco chicken burger along with some salad and fruit. Monday was salad night – I made a quinoa salad with sun dried tomatoes and artichokes, and we had a huge green salad. Tuesday I had something planned, but we went to Sonic instead 🙂 Wednesday we had chicken quesadillas, mexican rice, pinto beans and an avocado salad. Thursday, we had a big lunch out so, we just had a quick supper of leftovers. Friday I offered to cook, but he picked salad from the choices I gave him (sigh, the boy has a lot of willpower that I do not possess!). Saturday I made ribs, cole slaw and sweet potatoes. Sunday we ate out after church with friends (Mexican again) and then I'm planning wings and snacks for the Super Bowl. We had originally planned to have a Super Bowl party, but the first few people I talked to in January said they already had other plans, so we nixed it for this year. Maybe next year!
TV and Movies: This was a week of movie watching in our house! I watched my regular daily shows/cooking shows some afternoons. But in the evenings, there hasn't been a lot of our shared shows to watch together. Apparently we watch a lot on CBS, and they haven't had any new shows this week, they must be waiting till after they air the Super Bowl tonight. We did watch Blacklist and Elementary. Tim and I watched several of my Hallmark movies together: a Murder She Baked movie (Peach Cobbler mystery); A Bone to Pick, an Aurora Teagarden mystery and the first Flower Shop mystery: Mum's the Word. I watched "The Hundred Foot Journey" by myself and loved it! It was right up my alley – Helen Mirren and food! 🙂 Friday night we watched Thor: Dark World again. Saturday we watched an old one on the DVR, XMen Origins: Wolverine. I think a lot of our shows come back this week (all the NCIS, Tim's favorite Limitless, Blue Bloods, Hawaii Five-O, etc, all on CBS) so we should do more tv and less movies this coming week.
Something that makes me happy: – Tim continues to use his chalkboard art skills to update the coffee bean jar. Here's what he drew me for Valentines Day: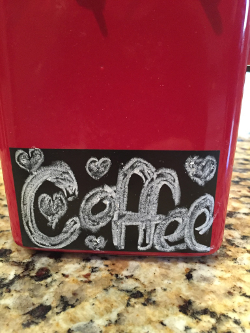 Fun Thing We Did: – bought tickets to a Third Day / Steven Curtis Chapman concert at our church. Can't wait for that, they'll be here in April. 🙂
Random Thought du Jour: I need to go to Walmart soon. I have certain items I only get there and tend to stay away from Walmart when at all possible. There are certain items I just won't buy at Kroger though, so a Walmart trip is going to be coming up soon. Now, take note, I haven't stepped foot in our Walmart since before Christmas, so I have a lot of things on my list to get. Sigh. I wish we had a Target closer, but they are a lot further away. And I think Target is more expensive for the things I'm looking to buy. Which do you prefer – Target or Walmart?
Hope everyone is having a great day!