Weekly boring update, take three!
Glad that… – We had some winter weather early in the week. Most people don't like the cold or the rainy or dreary days. I do, as long as I get to stay home and enjoy it! Fires, hot cocoa, snuggling under blankets, reading or watching tv. I try to get in as much hibernation as I can in January and February. I love this time of year, especially since we have such a long hot summer. By the weekend, it felt like spring, since the highs on Saturday and Sunday were like 73-74 degrees. Yikes!
Sad that… Tim is already half out of the walking habit with me! We walked two days this past week, not as much as previous weeks. Oh well, it was good while it lasted and I still haven't given up hope. He has his walking challenge for wellness with work until late Feb or early March. However, he's back to doing P90X workouts at lunch, rather than going walking with me. I mostly expected it though – he gets bored easily with just walking! The sad part for me is that this time of year, I'd much rather just sit at home and eat/read/watch tv/surf/etc rather than walk! 🙂
Good thing that happened… Tim had his yearly checkup this past week. Now, this doesn't sound like a big deal to anyone, right? Well, it took me 16 or 17 years to convince him to go to the doctor for a checkup. I'm over the moon that he goes yearly now, to get things checked out and make sure he's ok. I love him more than life itself and just want him to be healthy. And happy, but that's more something I can do than the doctor. He got a good report, and he doesn't need blood pressure medicine! Yippee!
Book I'm reading: "The Crimson Cord" by Jill Eileen Smith. Finished that one (really good!) and started another free one for my Kindle, "Critical Pursuit" by Janice Cantore.
Things we ate: Lots of leftovers and salad Sunday-Tuesday. I made potato soup on Wednesday. It was a really cold day and I had a bag of potatoes! Thursday, I made eggs in purgatory, black pepper bacon and grits. Tim loved the eggs, so those will be a keeper. Friday, I made sloppy joes and oven fries. (I gave him a choice of 3 things and predictably, he picked the sloppy joe's, one of his favorites!) Saturday we were gone all day to my in-laws and so Sunday we ate leftovers. Maybe Monday too! We stretched last weekend's leftovers through Tuesday with salads, so I like that (I try not to cook on Sundays).
TV and Movies: Regular stuff on the DVR. I made a concerted effort to clear off some of my Hallmark movies. First I watched The Gourmet Detective, then an Aurora Teagarden mystery (Real Murders). I really enjoyed both, but especially love Candace Cameron Bure and that cast. Then, I got Tim to watch the second Gourmet Detective with me (at least they are clean!). Tim and I also watched Transcendence with Johnny Depp, something we had recorded from a free preview weekend. I'd call that one…. weird. It did keep my attention though 🙂 The highlight of the TV viewing week: we rented The Martian from iTunes on Friday night. At home date night, complete with hot cocoa. Good movie, we had tried to see it at the theater and missed it, so we were glad to stream it at home. 🙂
Something that makes me happy: – We built our house over a year and a half ago and I really haven't blogged about much of it 🙂 There's so many things in the new house that make me happy. Here's one: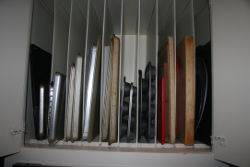 This is the cabinet above my microwave and wall oven. It's just a tall cabinet with slots, and I use it to store a ton of cookie sheets, muffin tins, sheet pans, pizza pans, cutting boards, my toaster oven pans, a cast iron griddle and my Emile Henre pizza stone that I love. This stuff used to take up so much room in the old kitchen. But, I seemed to stack it on the bottom of a shelf, so it was a royal pain to dig through to get down to what I wanted. Now, it's easy to store and easy to see and grab what I want. It makes me happy 🙂
Random Thought du Jour: I need a new wallet. Funny how that is something I never think to shop for, either online or when I venture to a department store. And I'm very particular about things like wallet and my purse. It has to have the right configuration, be the right size, etc. Picky, I am!
Hope everyone is having a great day!