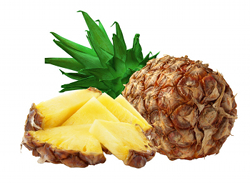 Yesterday was a good day in the kitchen. I got two items checked off of my culinary bucket list. "Culinary bucket list", what is she talking about? I know, probably no one else on the planet has that type of nerdy, foodie bucket list but me! But, I've discovered as I've gotten older that there are a lot of things I want to try to do or make in the kitchen, and so I'm trying to make a practice of doing some from time to time. And yes, I'm OCD enough that I actually have a list. I have one in my head, and I have another in a text document, where I actually write them down, and then a date by them when I finally knock one off my list. Last year, a couple of the ones that got marked off the list were make hummus and make tortillas from scratch.
Yesterday, I got two more accomplished – cut a fresh pineapple and make a 2 layer cake from scratch (with frosting from scratch). Now, granted, these are probably nothing to most people. But they are both something I've never done and was rather proud of myself for doing 😀
The pineapple should have been one I did years ago. I *love* pineapple but Tim doesn't like it (although to be fair, he's gotten better the longer we're married. He doesn't like CANNED pineapple, but he will now eat a bit of the fresh). I always thought they were hard to cut, but it totally was not. I do have to get better at cutting and coring, but I am still happy that I now have a delicious sweet pineapple cut up in the fridge to snack on. I found pineapples on sale this week at Kroger for 99 cents, so I grabbed one. I hope they are on sale again soon, I think most of the time the darn things are more like 3.00 or 3.50.
Second, I have made lots of cakes from scratch. But they are always sheet cakes, and they are often what I call "poke" cakes. You poke holes and pour something on top (I've done lemonade cakes, honey bun cakes, strawberry cakes, etc that fit this category). But, whenever I've made a layer cake, I always used a box mix. I found a recipe online and made a yellow cake. I got out my layer pans, which I have rarely, if ever, used and discovered this: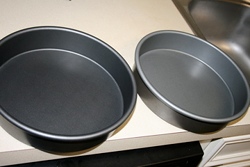 Can you see what I never noticed? I bought these pans at either Marshalls or TJ Maxx, and probably at separate times. I'm all about saving a buck, you know. And apparently, I didn't realize they were a tad different, one is darker than the other one. So, the cake layers were not quite even.
Anyhoo…. It was good, but a little dry. I think I'm still having trouble adapting to the new oven – this one cooks hotter, better, faster and so I'm going to have to start adjusting my recipes to cook at either a lower temperature, a less time, or maybe even both. The cake was still good, don't get me wrong, but I think it was a little overdone. The frosting was good, but I didn't have the right kind of chocolate, so I used what I had on hand. So it wasn't quite as dark and chocolate-y as I would have liked. All of that said, I'm still shoving this cake into my mouth!