After an extremely mild winter (I hardly pulled out a coat, it seems like), and a moderately long spring, I do believe summer is finally here. It rained here the whole time we were gone to Nashville (mid-June), but ever since we've been home, it hasn't rained a drop. I'm sure our next water bill will be higher than normal, since I'm having to water flowers, herbs, Tim's plants (tomato and peppers), and the grass.
Florida is getting drenched from a tropical storm (named Debby) that has stalled over most of the state. Oh, what I wouldn't give for rain! Instead we get this forecast: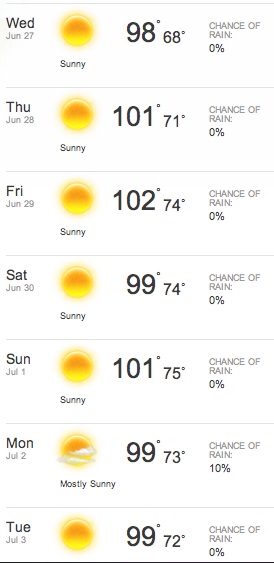 Sigh. That's summer in the south.

I'm just grateful for air conditioning in the house, AC in the car, and no real reason to have to spend a lot of time outside in the heat! Tim doesn't seem bothered by the heat, he plays golf in it (pulling his clubs the entire 18 holes) most every day!