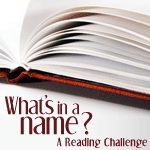 I do love to read, but I've been resisting joining all of the great reading challenges out there. I've decided to make an exception to that, and participate in Annie's "What's In a Name" reading challenge for 2008. I decided to go through my ever-growing TBR pile and find books that I have bought and want/need to read, thereby killing two birds with one stone. Here's the link to the blog Annie setup for this challenge, and here's the basic guidelines:
"What's In A Name?" Reading Challenge
Dates: January 1, 2008 through December 31, 2008
The Challenge: Choose one book from each of the following categories.
1. A book with a color in its title. Examples might include: The Amber Spyglass, The Red Pony, Blue Blood
2. A book with an animal in its title. Examples might include: The Hound of the Baskervilles, To Kill a Mockingbird, Julie of the Wolves
3. A book with a first name in its title. Examples might include: Jane Eyre, the Harry Potter books, Anne of Green Gables
4. A book with a place in its title. Examples might include: From Russia with Love, A Tree Grows in Brooklyn, Out of Africa
5. A book with a weather event in its title. Examples might include: The Snows of Kilimanjaro, Red Storm Rising, Tornado Alley
6. A book with a plant in its title. Examples might include: Where the Red Fern Grows, The Name of the Rose, Flowers for Algernon
–You may overlap books with other challenges, but please don't use the same book for more than one category. (For example, you can use The Red Pony for either a "color" book or an "animal" book, but not for both.)
Here's my choices:
1. Color in the title – "Windy City Blues" by Sara Paretsky — Completed January 2008
2. Animal in the title – "The Snake, the Crocodile and the Dog" by Elizabeth Peters– Completed September 2008
3. First Name in the title – "Julia's Hope" by Leisha Kelly– Completed September 2008
4. Place in the title – "Home to Holly Springs" by Jan Karon — Completed January 2008
5. Weather Event in the title – "Light on Snow" by Anita Shreve — Completed February 2008
6. Plant in the title – "Sweetgrass" by Mary Alice Monroe — Completed April 2008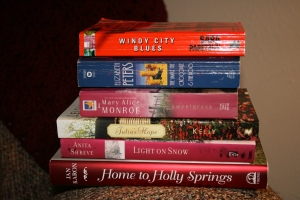 Thanks, Annie, for hosting this challenge. I look forward to reading these during the year, and knocking a few books off my TBR pile 🙂