I learned a lot from my mom, including how to be frugal and how to shop for deals. I also try very hard to stick to a list and not get anything that isn't on my list. I have my Grocery IQ app on my phone, but also on my iPad (and I use it daily), and as my new giant Kroger has free wi-fi, I just carry my Ipad to the store. It's a tough life

Anyway, I deviate from my list when I find "deals". Recently, I found some Laura's Lean organic ribeyes in the clearance bin, so I snatched them up. Same with a whole organic chicken, which Tim smoked on his new smoker he got for Christmas (ooh, I feel another blog post coming up!). Today, I found a basket full of reduced priced items in the Natural/Organic section. I could have bought a lot more, but I was good and just came home with these: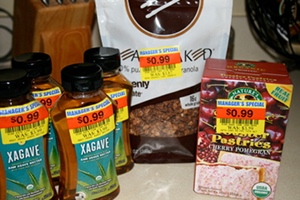 The agave was my big score. I had *just* bought a bottle of this brand in their organic section two weeks ago. Luckily, I have been using it and knew it had a good taste. Instead of 3.99 a bottle, I got them for 99 cents each. Me and my "oatmeal on steroids" are set for a while now, since I add agave to my oatmeal every morning. I've bought Bare Naked granola before and liked it. The organic "pop tarts" are a new try, but maybe they won't be too bad.

I love a good deal at the food place!